Northfield, MN – A recent ranking by College Factual found Northfield to be a great area for bachelor-degree seekers.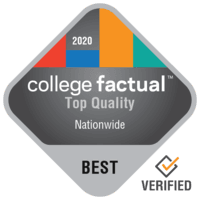 Universities in the area were recognized in the rankings report for their excellent degree programs and their commitment to overall quality.
Is Northfield A Good Place for College Students?
Local universities attract students from all over the world. Those students bring in an influx of diversity, energy and economic stimulus that is always welcome.
The estimated total population of Northfield is 20,474.
An estimated 45.5% of the population has a Bachelor's Degree.
An estimated 28.6% of the population has an Associate's Degree.
About the Rankings
College Factual created its 2020 Best Colleges in the United States ranking to help students identify colleges and universities that are providing high quality student outcomes to their graduates. In order to create these rankings, College Factual analyzed over 2,700 U.S. schools and ranked them in terms of which were best for overall quality.
To learn more about how these rankings were derived, see College Factual's Ranking Methodology.
Best Colleges in the United States Near Northfield
The following 2 colleges near Northfield have earned a distinguished spot within the top tier of this year's ranking.
Carleton College
Carleton College is ranked #47 in the country and #1 in the state of Minnesota. Carleton is home to about 2,100 students every year. The freshman retention rate at the school is 96 percent.
After graduation, some students choose to go to grad school. Others enter directly into the workforce making a median starting salary of $40,000. The mid-career median salary is $54,000.
Learn more about Carleton College.
St Olaf College
St Olaf College is ranked #126 in the country and #2 in the state of Minnesota. Roughly 3,000 undergraduates attend St. Olaf each year. The school has a student to faculty ratio of 12 to 1.
St. Olaf students who enter the workforce directly after graduation earn a median starting salary of $38,000. This rises to a median salary of $50,000 by mid-career.
Learn more about St Olaf College.