Taneytown, MD – A recent analysis by higher education data firm College Factual found Taneytown to be one of the best cities in the nation for students who are seeking a vet-friendly college.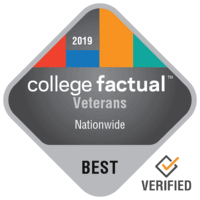 Not only will students find a great community of veterans in Taneytown, they'll also receive a terrific education.
Attracting Student Veterans to the Community
There is 1 school in the local area that made the top 15% of this year's Best Colleges for Veterans ranking. Veteran affordability and availability of resources as well as overall college quality were considered when developing these rankings.
Local businesses welcome veterans due to the increase in economic activity they bring to the area. Thus, providing opportunities to get a top-notch education helps out the local population as well.
More Reasons Veterans Choose Taneytown for Education
There are an estimated 341 veterans living in Taneytown and about 330 students using the GI Bill® at nearby colleges and universities. Considering the population of Taneytown is roughly 6,789, this means an estimated 5% of the population are veterans.
There are also 2 American Job Center Locations in the Taneytown area, and 2 of these have veteran representatives. The AJC locations are.:
PA CareerLink Adams County
150 V-Twin Drive
Gettysburg, PA 17325
Carroll County Business/Employment Resource Center
224 North Center Street
Westminster, MD 21157
About the Rankings
College Factual's Best Colleges for Veterans ranking was developed to help students identify high-quality colleges that are strong in the factors that matter the most to them. Over 3,000 U.S. colleges were analyzed in these rankings to determine which schools were best for veterans.
To learn more, read College Factual's Ranking Methodology.
Best College for Veterans Near Taneytown
The following college near Taneytown has earned a distinguished spot within the top tier of this year's ranking.
Mount St Mary's University
Mount St Mary's University is ranked #246 in the country and #6 in the state of Maryland for veterans. Mount St Mary's University is home to about 1,800 undergraduates every year. The school has a student to faculty ratio of 12 to 1.
Around 140 undergraduates at the school are recipients of the GI Bill®.
See other statistics about veterans at Mount St Mary's University.
Learn more about Mount St Mary's University.
Other Colleges in the Area
The following is a list of some of the other colleges near Taneytown, MD along with their ranking in the Best Colleges for Vets analysis.
McDaniel College is ranked #914.
Gettysburg College is ranked #1241.