Troy, New York and Milwaukee, Wisconsin
College Factual recently released their 2018 National Student-Athlete Rankings for division 1 men's basketball. Marquette University performed very well in these rankings.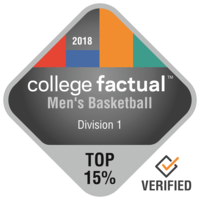 Student-Athlete Men's Basketball Rankings Review
Marquette has been ranked number 37 out of 323 total schools for their division 1 men's basketball program. This means Marquette is top 50 in the nation for combining a quality education with an amazing basketball team.
Marquette improved its ranking position 58 slots over the previous year's ranking of 95.
See the full Division 1 Men's Basketball Ranking.
Work for Marquette? Insert your quote here...

Your Name, Your Title
Share This:
Congrats to Marquette a top ranked school for Division 1 Men's Basketball in a 2018 @CollegeFactual ranking.
Tweet It!
Post It!
About Sports at Marquette
Marquette University offers 12 sports programs and has 264 student athletes at the school. Marquette provides approximately $14,379 in sports related aid to men, and $20,129 in sports related aid to women.
This ranking of best schools for student athletes takes into account both the athletic competitiveness of the specific team, as well as the academic progress of the student-athletes on the team.
Learn more about sports at Marquette.
About Marquette University
Located in Milwaukee, Wisconsin in a city setting, Marquette is home to approximately 8,340 undergraduate students 264 of whom are classified as student athletes.
About College Factual:
College Factual provides rankings, college match-making tools and major matching tools to students of all types for free with the aim of helping students make the best education decisions possible. Learn more and get started with your free College Factual account.