Troy, New York and Milwaukee, Wisconsin
Marquette University has been recognized in a 2018 national ranking by College Factual. Marquette has achieved high marks in these rankings for best education quality.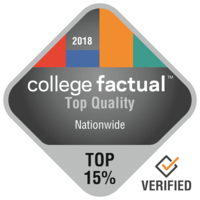 About These Rankings
College Factual's "Best Colleges Ranking" highlights colleges and universities that meet high standards and provide quality outcomes to students. Some of the factors that make up the ranking include student to faculty ratio, graduation rates, student loan default rates, and other quality metrics. Read the full ranking methodology.
Ranked 173 out of a total 1,383 schools, Marquette University performed quite well in these rankings. Marquette was ranked 176 in last year's national ranking meaning they have moved up 3 positions.
Work for Marquette? Insert your quote here...

Your Name, Your Title
In addition, Marquette was ranked 4 out of 32 in the state of Wisconsin, making it a top 5 school in Wisconsin for overall quality. Marquette has achieved this ranking 2 years in a row.
See the full Best Colleges Ranking.
See the full Best Colleges in Wisconsin Ranking.
Share This:
Congrats to Marquette for ranking as best school according to @CollegeFactual. Learn more...
Tweet It!
Post It!
About Marquette University
Marquette University is located in Milwaukee, Wisconsin in what is generally considered a city setting serving approximately 8,340 undergraduate students. The school has approximately 15 to one student to faculty ratio, an 58.4% on-time graduation rate, and 54.7% of the teachers are full-time. Learn more about Marquette.
About College Factual
College Factual, located in Troy, New York, is a leading source of college data analytics and insights, with a strong focus on student outcomes. College Factual provides in-depth coverage for over 2,500 colleges and universities and over 350 college majors, helping students discover which of those colleges and majors are best for them. These insights are available to students from 160 countries interested in pursuing accredited college degree programs in the United States. Learn more about College Factual.