Troy, New York and Milwaukee, Wisconsin
College Factual recently released their 2018 national and state rankings for Best History Programs for Veterans.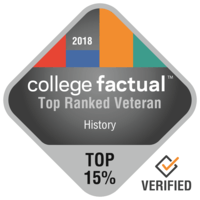 National Rankings Review:
Marquette's history program is ranked 76 out of 601 for veteran friendliness of all colleges and universities reviewed by College Factual. This puts Marquette in the top 80 when it comes to offering a quality education to veterans in history.
See the full ranking of history programs for veterans.
Work for Marquette? Insert your quote here...

Your Name, Your Title
Wisconsin State Rankings Review
Marquette University's history program is ranked 2 out of 13 colleges and universities reviewed by College Factual for veteran friendliness in Wisconsin. This means Marquette University in a top 10 best school for veterans studying history in Wisconsin.
Marquette has achieved this ranking 2 years in a row.
See the full ranking of Best for Vets history programs in Wisconsin.
Share This:
Congrats to Marquette a top ranked history school for veterans according to @CollegeFactual.
Tweet It!
Post It!
Superior Outcomes at Marquette University for Students Earning History Degrees
Based upon PayScale survey data*, a student who graduates from Marquette with a degree in history realizes early-career earnings of $45,000 and average mid-career earnings of $67,000. This is 13.8% above the national average of all graduates who make $40,000 in their early career.
Learn more about majoring in history.
About these Rankings
These rankings were developed to highlight schools that offer quality outcomes in a specific major while also offering support and resources to help veterans and active-duty military students thrive. Read more about College Factual's rankings for veterans.
About Marquette University
Marquette University located in Milwaukee, Wisconsin in a city atmosphere serving approximately 8,340 undergraduate students. Approximately 130 recipients of the GI Bill®. See all the ways that Marquette is supporting veterans.

Marquette has an active Student Veterans of America (SVA) chapter on campus. This student-led chapter serves provides military veterans with the resources, support, and advocacy needed to succeed in higher education and following graduation. Learn more about the SVA at Marquette University.
About College Factual:
College Factual, located in Troy, New York, is the leading source of data analytics and insights on college outcomes. College Factual provides in-depth coverage for over 2,500 colleges and universities and over 350 college majors. These insights are available to students from over 50 countries interested in pursuing accredited college degree programs in the United States. Learn more about the methodologies employed by College Factual.
Have you been affected or know someone affected by the closure of ITT Tech or Ashford? Find your next step with our free resource.
* Salary data is estimated by College Factual using 2013 data provided by PayScale.