Troy, New York and Milwaukee, Wisconsin
College Factual recently released their 2018 Best Colleges for Veterans Rankings. This is a ranking of four-year colleges and universities in the United States. Read on to see how Marquette University performed in these rankings.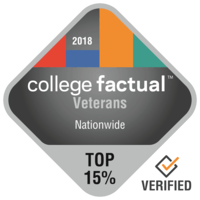 National Rankings Review
Marquette is ranked 206 out of 1,423 for veteran friendliness of all colleges and universities reviewed by College Factual. This means Marquette is in the top 210 Best for Vets school in the U.S.
See the full Best for Vets ranking.
Work for Marquette? Insert your quote here...

Your Name, Your Title
Wisconsin Rankings Review
Marquette University is ranked 7 out of 32 colleges and universities reviewed by College Factual for veteran friendliness in Wisconsin. This means Marquette is a top 10 best school for veterans in Wisconsin.
See the full ranking of Best for Vets schools in Wisconsin.
Share This:
Congrats to Marquette a top ranked school for veterans in a 2018 @CollegeFactual ranking.
Tweet It!
Post It!
About these Rankings
This ranking was meant to highlight colleges and universities who are working hard to provide quality educational outcomes to veterans, active-duty military students and their families. Some of the quality factors included in the rankings are veteran affordability, veteran support services and resources available, and overall quality metrics important to any student and especially metrics important to non-traditional students.
About Marquette University
Marquette University is located in Milwaukee, Wisconsin in a city environment serving approximately 8,340 undergraduate students and approximately 130 recipients of the GI Bill®. See all the ways that Marquette is supporting veterans.

Marquette has an active Student Veterans of America (SVA) chapter on campus. This student-led chapter provides military veterans with the resources, support, and advocacy needed to succeed in higher education and following graduation. Learn more about The SVA.
About College Factual:
College Factual, located in Troy, New York, is the leading source of data analytics and insights on college outcomes. College Factual provides in-depth coverage for over 2,500 colleges and universities and over 350 college majors. These insights are available to students from over 50 countries interested in pursuing accredited college degree programs in the United States. Learn more about College Factual and sign up for your free account.
Have you been affected or know someone affected by the closure of ITT Tech or Ashford? Find your next step with our free resource.