Newark, New Jersey – The accredited degree program in General Architecture at New Jersey Institute of Technology has been ranked as a "Best Value for the Money" in the annual nationwide ranking of U.S. colleges and universities by College Factual.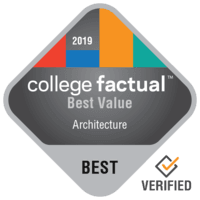 State Rankings Review
NJIT's Architecture program ranked #1 in New Jersey for value. This makes NJIT the best value school in the state for Architecture majors.
NJIT improved its state ranking position 1 slot over last year's ranking of #2.
See the full ranking of Best for the Money Architecture programs in New Jersey.
Work for New Jersey Institute of Technology? Insert your quote here...

Your Name, Your Title
Superior Outcomes at NJIT for Students Earning Architecture Degrees
Based upon PayScale survey data*, students graduating from NJIT with accredited degrees in Architecture realize early-career earnings of $40,088 and mid-career earnings of $83,029.
Learn more about General Architecture as a major.
About This Ranking
College Factual's Best Architecture Schools for the Money Ranking takes into account the average yearly cost of the school, the average time students take to graduate, and the quality the school provides to students. This means schools who rank highly are offering a good value for the money for Architecture graduates.
About New Jersey Institute of Technology
New Jersey Institute of Technology is located in Newark, New Jersey in what is generally considered a city setting, serving approximately 8,200 graduates.
College Factual has estimated the average yearly cost to attend NJIT to be $40,844. The average student graduates in about 4.7 years, bringing the average total cost of attending NJIT to $191,967.
Learn more about value at NJIT.
About College Factual
College Factual, located in Troy, New York, is the leading source of data analytics and insights on college outcomes. It provides in-depth coverage for over 2,500 colleges and universities and over 350 college majors. These insights are available to students from over 200 countries interested in pursuing accredited college degree programs in the United States.
Learn more about the methodologies employed by College Factual.
*Salary data is estimated by College Factual using 2013 data provided by PayScale.