Moscow, Idaho – University of Idaho performed especially well in a recent ranking of Forestry degree programs. College Factual ranks programs offered by four-year colleges and universities and has recently updated its rankings.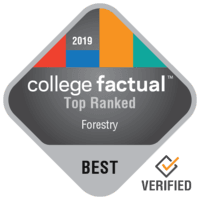 State Rankings for Forestry
Idaho's Forestry program has been ranked #1 in Idaho. This makes the Forestry program at the school the best in the state. Idaho has achieved this ranking 2 years in a row.
Work for University of Idaho? Insert your quote here...

Your Name, Your Title
Superior Outcomes at University of Idaho for Students Earning Forestry Degrees
Based upon PayScale survey data*, a student who graduates from Idaho with a degree in Forestry will make average early-career earnings of $36,951 and average mid-career earnings of $65,057.
Learn more about outcomes at University of Idaho.
About University of Idaho
University of Idaho is located in Moscow, Idaho in what is generally considered a rural atmosphere serving approximately 9,600 undergraduate students.
Idaho has one of the best Forestry programs in Idaho according to @CollegeFactual rankings

Tweet It!Post It!
Learn more about Idaho.
About College Factual
College Factual, located in Troy, New York, is a leading source of college data analytics and insights, with a strong focus on student outcomes. Its mission is to help all types of students discover their best-fit college and major so they can enjoy their college experience and graduate with less debt.
College Factual provides coverage for over 2,500 colleges and universities, 350 college majors, for students in over 160 countries. Learn more about College Factual.
*Salary data is estimated by College Factual using 2013 data provided by PayScale.