Fulton, Missouri
College Factual has released their 2018 rankings for the best colleges and universities for non-traditional students, and William Woods University has performed quite well.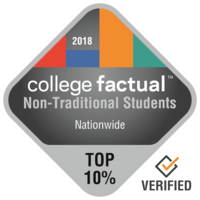 How William Woods University Serves Non-Traditional Students
The "non-traditional" student label refers to any student that falls outside the "norm" of first-time, full-time students under the age of 25. Included in this label are part-time students, transfer students, as well as adults heading back to school after an absence, or going for the first time. Non-traditional students represent the bulk of those going to college today, making it extremely important for colleges to begin to cater to their unique needs.
William Woods University is ranked #68 out of a total of 1,164 colleges and universities evaluated in the U.S. in providing quality education to non-traditional students. This puts it in the top 5.8% of schools for returning adults and other non-traditional students! William Woods was ranked 611 in last year's national ranking meaning they have moved up 543 positions.
Work for William Woods? Insert your quote here...

Your Name, Your Title
See the full ranking of the Best Colleges for Non-Traditional Students.
William Woods was also ranked #1 out of a total of 29 in the state of Missouri for non-traditional students.
See the full Best Colleges for Non-Traditional Students in Missouri Ranking.
Share This:
Congrats to @WilliamWoodsU for ranking as 2018 best for non-traditional students according to @CollegeFactual. Learn more...
Tweet It!
Post It!
Factors Analyzed in this Ranking
Adults returning to school and other non-traditional students deserve both quality and affordable options when it comes to earning their degree. That's why our methodology prioritizes financial factors, and degree completion, as well as flexible learning options. Read the full non-traditional student ranking methodology.
To present the absolute best options, this ranking includes both traditional universities with distance learning programs as well as primarily online institutions.
About William Woods University
William Woods University is located in Fulton, Missouri in what is generally considered a small town atmosphere serving approximately 1,010 undergraduate students. The school has approximately 11 to one student to faculty ratio, accepts some life credits, offers distance learning options, offers evening and/or weekend classes, and 22.8% of the teachers are full-time. Learn more about William Woods.
About College Factual
College Factual, located in Troy, New York, is a leading source of college data analytics and insights, with a strong focus on student outcomes. College Factual provides in-depth coverage for over 2,500 colleges and universities and over 350 college majors, helping students discover which of those colleges and majors are best for them. These insights are available to students from 160 countries interested in pursuing accredited college degree programs in the United States. Learn more about College Factual.