2021 Best Value Colleges for Legal Professions in Michigan
Finding the Best Value Legal Professions School for You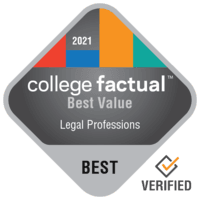 Legal Professions is the #30 most popular major in Michigan with 190 bachelor's degrees awarded in 2018-2019. This means that of the 4,554 bachelor's that were awarded in the country, 4.2% were from a college or university in the state.
When talking about the 'best value', we do not simply mean those with the lowest price. For this ranking, we are identifying those legal professions schools that provide their students with a hiqh quality education at a price that is lower than other colleges and universities of the same caliber.
When calculating average cost, we take tuition, fees, room and board, books and supplies, and other related expenses into account. We then subtract the average financial aid award. The is meant to give you an idea of how much money you'll need to pay out-of-pocket through loans, external scholarships, or other methods. Your cost may be different from the average one, depending on your income and other factors.
One Size Does Not Fit All
Since the program you select can have a significant impact on your future, we've developed a number of rankings, including this Best Value Legal Professions Schools list, to help you choose the best school for you.
In addition to College Factual's rankings, you may want to take a look at College Combat, our unique tool that lets you pit your favorite schools head-to-head and compare how they rate on factors that most interest you. When you have some time, check it out - you may want to bookmark the link so you don't forget it.
2021 Best Value Legal Professions School in Michigan
The following school tops our list of the Best Legal Professions Colleges for the Money.
Best Value Legal Professions School
Michigan State University earned the #1 spot in our 2021 rankings. Located in the city of East Lansing, Michigan State is a public college with a fairly large student population. Michigan State did well in our quality rankings, too. It placed #1 on our Best Colleges for Legal Professions in Michigan list.
At Michigan State, the average time it takes a student to graduate is 4.4 years, and on average, the annual cost to attend the school is $36,866. Putting this cost and the average time to graduate together, we find that the average amount you'll pay to get a bachelor's degree from Michigan State is $161,473. If you can shave even one term off your degree, you can save a substantial amount of money.
Read full report on Legal Professions at Michigan State University
Request Information
Best Legal Professions Colleges in the Great Lakes Region
Explore all the Best Legal Professions Colleges in the Great Lakes Area or other specific states within that region.
Legal Professions Related Rankings by Major
Legal Professions Majors to Study
View All Legal Professions Related Majors >
Majors Similar to Legal Professions
View All Legal Professions Related Majors >
Notes and References
*These values are for the top school only.
The Integrated Postsecondary Education Data System (IPEDS) from the National Center for Education Statistics (NCES), a branch of the U.S. Department of Education (DOE) serves as the core of the rest of our data about colleges.
Some other college data, including much of the graduate earnings data, comes from the U.S. Department of Education's (College Scorecard).
Credit for the banner image above goes to The wub.
More about our data sources and methodologies.