by our College
Data Analytics Team
 Unbiased
Factual Guarantee
2023 Journalism Degree Guide
Journalists need to be up to date on current events and have a nose to sniff out a story. Curiosity and good investigative skills are necessary. If this field piques your interest, consider majoring in journalism.
Journalists have the ability to investigate stories, interview sources, and share this information with readers, viewers, and listeners. As a journalism major, you will receive a well-rounded education and learn everything you need to know about transferring information through all types of media outlets. Not only will you take classes in writing and editing, but you will be educated in history, science, professional ethics, libel, and culture. Journalists cover a wide variety of topics and must do so fairly and correctly.
For those who are interested in television, there is the option to concentrate in Broadcast Journalism or you can learn to tell your story through pictures with a degree in Photojournalism.
Journalism Degrees Decreasing
-7.2%
Increase in Graduates
Journalism was the 69th most popular major in the 2020-2021 school year. Colleges in the United States reported awarding 13,552 degrees in this year alone. This represents a 7.2% reduction in journalism degrees awarded over the prior year's total of 14,528.
Our 2023 Best Journalism Schools ranking analyzes 236 of these schools to determine the best overall colleges for journalism students. Explore this or one of our many other custom journalism rankings further below.
Best Journalism Schools by Degree
Journalism Degree Requirements
Journalists love to write. They are always working on a new story to provide the public with information. This career is best suited for people who are detail oriented and enjoy research. You must cover every detail of breaking stories and ensure all information is shared and accurate. A career in journalism also requires a strong sense of social perceptiveness and a constant awareness of current events.
News can happen at any time. Although journalists work full time, work hours are not always consistent. You may have to work late hours or on weekends to make a deadline or report a breaking story.
The best way to get involved in journalism is through experience. Get involved with your campus newspaper, news studio, or radio station. This will give you the opportunity to write your own articles and sharpen your skills before joining the job force. Internships are also a great way to gain experience. Working at a local news outlet will teach you about real reporting and give you an advantage when trying to find a job after graduation.
Journalism Degree Program Entry Requirements
A high school diploma or equivalent is typically required for most journalism degree programs and many students will need a minimum GPA and SAT/ACT score depending on the school. Once you obtain your degree, additional journalism certifications required to pursue a career in this field.
Journalism Degree Types
There are many different journalism degree levels. You can get anything from a in journalism to the highest journalism degree, a . Different journalism degrees vary in how long they take.
| Degree | Credit Requirements | Typical Program Length |
| --- | --- | --- |
| Associate Degree | 60-70 credits | 2 years |
| Bachelor's Degree | 120 credits | 4 years |
| Master's Degree | 50-70 credits | 1-3 years |
| Doctorate | Program required coursework including thesis or dissertation | At least 4 years |
A bachelor's degree is the most common level of education achieved by those in careers related to journalism, with approximately 52.7% of workers getting one. See the the most common levels of education for journalism workers below.
| Level of Education | Percentage of Workers |
| --- | --- |
| Bachelor's Degree | 52.9% |
| Master's Degree | 11.8% |
| Some College Courses | 11.0% |
| High School Diploma | 8.9% |
| Associate's Degree (or other 2-year degree) | 6.3% |
70.5% of journalism workers have at least a bachelor's. View the chart below to get an idea of what degree level most of those in journalism careers have.
The education level required is different depending on the journalism career you are seeking.
Career Opportunities for A Degree In Journalism Graduate
$33k
Average Starting Salary
-0% Decline
Job Outlook 2016-26
A degree in Journalism leads to many possible careers in news reporting. Options include trade magazines, news stations, local or national newspapers, Internet news sources, or working as a freelance writer. Some journalism majors don't go into news reporting and instead pursue careers in other communications areas, such as public relations or even advertising.
Steady Demand Projected for Journalism Careers
Want a job when you graduate with your journalism degree?
The following options are some of the most in-demand careers related to journalism.
| Occupation Name | Projected Jobs | Expected Growth |
| --- | --- | --- |
| Writers and Authors | 141,200 | 7.6% |
| Photographers | 139,000 | -5.6% |
| Editors | 125,600 | -1.4% |
| Reporters and Correspondents | 40,200 | -10.1% |
| Film and Video Editors | 40,000 | 17.0% |
How Much Money Do Journalism Grads Make?
Journalism graduates between 2017-2019 reported earning an average of $32,954 in the 2019-2020 timeframe. Earnings can range from as low as $15,344 to as high as $59,374. As you might expect, salaries for journalism graduates vary depending on the level of education that was acquired.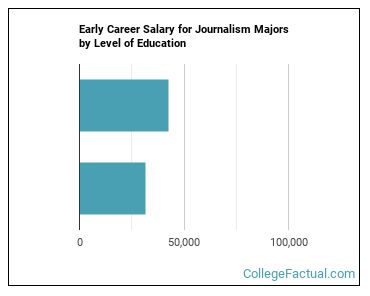 Highest Paid Journalism Careers
Salaries for journalism graduates can vary widely by the occupation you choose as well. The following table shows the top highest paying careers journalism grads often go into.
| Occupation Name | Median Average Salary |
| --- | --- |
| Broadcast News Analysts | $91,990 |
| Film and Video Editors | $86,830 |
| Communications Professors | $78,090 |
| Writers and Authors | $73,090 |
| Editors | $69,480 |
Getting Your Journalism Degree
With over 878 different journalism degree programs to choose from, finding the best fit for you can be a challenge. Fortunately you have come to the right place. We have analyzed all of these schools to come up with hundreds of unbiased journalism school rankings to help you with this.
Top Ranking Lists for Journalism
Journalism is one of 5 different types of Communication & Journalism programs to choose from.
Journalism Concentrations
Popular Reports
College Rankings

Ranking Types

Athletes

Students From
Best by Location
Degree Guides by Major

Fields of Study

Popular Majors

Popular Majors
Graduate Programs

By Degree Level Popular Programs
Compare Your School Options