by our College
Data Analytics Team
 Unbiased
Factual Guarantee
2023 Psychology Degree Guide
The field of Psychology involves the scientific study of the human mind and human behavior. There are a variety of majors and concentrations available for students to choose a specialization in a certain interest. Coursework involves work in the lab and the library conducting research, as well as group project assignments and time spent in the field interacting with clients and patients.
There are a few different majors that are available to you depending on what college you choose. You can choose to pursue your degree in General Psychology allows you to study behavior and research methods as you answering difficult and thought provoking questions. For more practical training, you may want to choose to study Clinical, Counseling, and Applied Psychology. This is a great choice for those who wish to pursue careers as counselors. Students can also major in Child Development and Psychology in order to learn how people develop and grow through their life.
A Recent Jump in Psychology Degrees
6.0%
Increase in Graduates
In 2020-2021, psychology was the 8th most popular major nationwide with 195,678 degrees awarded. This is a difference of 11,789 over the prior year, a growth of 6.0%.
This year's Best Psychology Schools ranking compares 1003 of them to identify the best overall programs in the country. Explore this or one of our many other custom psychology rankings further below.
Best Psychology Schools by Degree
Featured Psychology Programs
Learn about start dates, transferring credits, availability of financial aid, and more by contacting the universities below.
Advance in your human services or psychology career, or prepare for graduate studies in a variety of fields at Southern New Hampshire University.
Our Master of Science in Psychology program is designed to extend your knowledge and discipline in psychology, preparing you for a wide variety of professions and contexts.
MA in Clinical Mental Health Counseling
Become a champion of change and take your first step toward licensure as a clinical mental health counselor with this specialized and CACREP-accredited online clinical counseling master's from Southern New Hampshire University.
Psychology Degree Requirements
The field of Psychology requires a student who is deeply interested in people and also enjoys math and science. You will be spending time writing lab reports as well as research papers. Students develop adept critical thinking skills as they analyze scientific papers, gather research and make observation. You will also work with numbers and formulas to analyze data.
Students should have a passion for working with people and a desire to help people lead better lives. Many majors involve an internship or some sort of field work. Make good use of any practical experience in order to help you find a job later on. Work in the field also helps you empathize with others and become a better listener.
Prior Education for a Psychology Program
psychology degree applicants generally need have finished high school or their GED. Many schools may also have GPA and SAT/ACT score minimums that must be met. In addition to these basic psychology program qualifications, to serve in some psychology careers, special certification may be required outside of your degree.
Types of Psychology Degrees
There are many different psychology degree levels. You can spend many years getting as high as a in psychology to something that takes less time like a . The type of psychology degree you choose will determine how long it takes to get your diploma.
| Degree | Credit Requirements | Typical Program Length |
| --- | --- | --- |
| Associate Degree | 60-70 credits | 2 years |
| Bachelor's Degree | 120 credits | 4 years |
| Master's Degree | 50-70 credits | 1-3 years |
| Doctorate | Program required coursework including thesis or dissertation | At least 4 years |
A bachelor's degree is the most common level of education achieved by those in careers related to psychology, with approximately 29.4% of workers getting one. People currently working in careers related to psychology tend obtained the following education levels.
| Level of Education | Percentage of Workers |
| --- | --- |
| Bachelor's Degree | 29.8% |
| Master's Degree | 22.4% |
| Post-Doctoral Training | 17.2% |
| Doctoral Degree | 16.4% |
| Post-Master's Certificate | 4.4% |
Most workers in psychology have at least a master's degree. See the chart below for the most common degree level workers in psychology have received.
The education level required is different depending on the psychology career you are seeking.
Psychology Careers
$35.6k
Average Starting Salary
9% Growth
Job Outlook 2016-26
A major in the field of Psychology is usually a stepping stone for an advanced degree. A master's degree will allow you to become a school psychologist or work in some areas of counseling. A doctorate degree is required to become a psychologist. If student choose not to continue their education they may be able to find jobs in social work, marketing, sales, human resources or any other field that involves interacting and understanding people.
Solid Growth Projected for Psychology Careers
Want a job when you graduate with your psychology degree? Psychology careers are expected to grow 9.1% between 2016 and 2026.
The following options are some of the most in-demand careers related to psychology.
| Occupation Name | Projected Jobs | Expected Growth |
| --- | --- | --- |
| Managers | 1,071,700 | 8.0% |
| Clinical, Counseling, and School Psychologists | 168,500 | 14.2% |
| Psychology Professors | 54,000 | 15.1% |
| Psychologists | 19,200 | 10.3% |
| Industrial-Organizational Psychologists | 1,800 | 5.9% |
How Much Money Do Psychology Grads Make?
Recently graduated psychology students earned an average of $35,622 in 2019-2020. Earnings can range from as low as $10,969 to as high as $104,061. As you might expect, salaries for psychology graduates vary depending on the level of education that was acquired.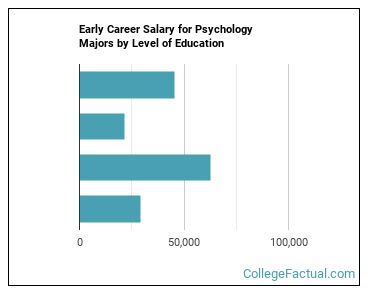 High Paying Careers for Psychology Majors
Salaries for psychology graduates can vary widely by the occupation you choose as well. The following table shows the top highest paying careers psychology grads often go into.
| Occupation Name | Median Average Salary |
| --- | --- |
| Managers | $115,590 |
| Industrial-Organizational Psychologists | $109,030 |
| Psychologists | $95,610 |
| Psychology Professors | $88,490 |
| Clinical, Counseling, and School Psychologists | $85,340 |
Getting Your Psychology Degree
With over 5,943 different psychology degree programs to choose from, finding the best fit for you can be a challenge. Fortunately you have come to the right place. We have analyzed all of these schools to come up with hundreds of unbiased psychology school rankings to help you with this.
Top Ranking Lists for Psychology
Related Programs
Learn about other programs related to Psychology that might interest you.
BA in Psychology - Forensic Psychology
Combine psychology and the law while developing research and critical-thinking skills with one of our bachelor's degrees in forensic psychology from Southern New Hampshire University.
BA in Psychology - Mental Health
Gain a strong foundation in the concepts involved with mental health therapy and assessment with this specialized online bachelor's from Southern New Hampshire University.
Psychology Majors to Study
Popular Reports
College Rankings

Ranking Types

Athletes

Students From
Best by Location
Degree Guides by Major

Fields of Study

Popular Majors

Popular Majors
Graduate Programs

By Degree Level Popular Programs
Compare Your School Options