2021 Best Value Colleges for Legal Professions in Minnesota
Finding the Best Value Legal Professions School for You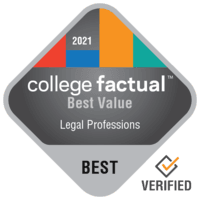 Legal Professions is the #30 most popular major in Minnesota with 69 bachelor's degrees awarded in 2018-2019. This means that colleges and universities in the state were responsible for awarding 1.5% of all the legal professions bachelor's degrees in the country.
Note that the phrase 'best value' does not mean the absolute lowest-priced. Instead, we are looking at those legal professions schools that offer a high quality educational experience at a price lower than expected.
Average cost figures start with estimating tuition, fees, room and board, books, and other related expenses. We then subtract the average amount of financial aid that a student receives. You can use this as a gauge to estimate how much you may need to pay out of pocket to cover costs when financial aid isn't enough. Keep in mind that the net cost for you may be higher or lower, depending on your income and other factors.
One Size Does Not Fit All
The legal professions school you choose to invest your time and money in matters. To help you make the decision that is right for you, we've developed a number of major-specific rankings, including this list of the Best Value Legal Professions Schools.
To further help you make the college decision, we've developed a unique tool called College Combat that allows you to compare schools based on the factors that matter the most to you. Go ahead and give it a try, or bookmark the link so you can check it out later.
2021 Best Value Legal Professions School in Minnesota
The following school tops our list of the Best Legal Professions Colleges for the Money.
Best Value Legal Professions School
The #1 spot in this year's ranking belongs to Hamline University. Located in the large city of Saint Paul, Hamline is a private not-for-profit school with a small student population. Hamline also took the #1 spot in our Best Colleges for Legal Professions in Minnesota rankings.
The average amount of time it takes for a student to receive their degree at Hamline is 4.2 years, and it costs about $31,506 per year to attend the school. Putting this cost and the average time to graduate together, we find that the average amount you'll pay to get a bachelor's degree from Hamline is $131,695. When students graduate in a lesser amount of time, they can save thousands of dollars.
Full Legal Professions at Hamline University Report
Request Information
Best Legal Professions Colleges in the Plains States Region
Explore all the Best Legal Professions Colleges in the Plains States Area or other specific states within that region.
Legal Professions Related Rankings by Major
Legal Professions Majors to Study
View All Legal Professions Related Majors >
Most Popular Majors Related to Legal Professions
View All Legal Professions Related Majors >
Notes and References
*These values are for the top school only.
The Integrated Postsecondary Education Data System (IPEDS) from the National Center for Education Statistics (NCES), a branch of the U.S. Department of Education (DOE) serves as the core of the rest of our data about colleges.
Some other college data, including much of the graduate earnings data, comes from the U.S. Department of Education's (College Scorecard).
Credit for the banner image above goes to The wub.
More about our data sources and methodologies.