Graduation and Retention Rates: Find Out if Anyone Sticks Around
At Bridgewater State University, 1,453 undergraduates were scheduled to complete their degree in 2016. Did they? Let's find out...
Below You'll Find: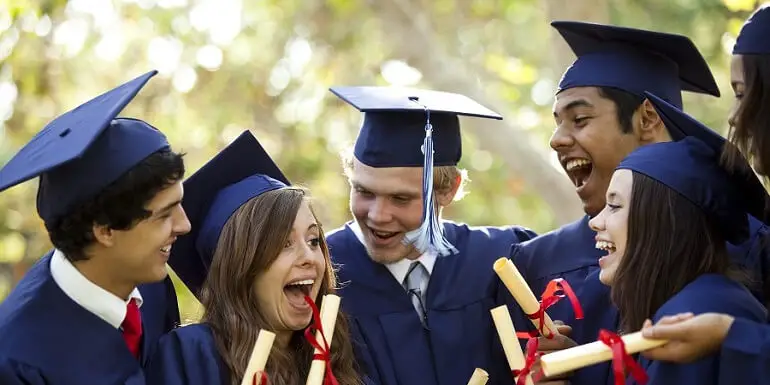 What Retention and Graduation Rates Mean to You
Retention Rates can be used to estimate if you'll stay at Bridgewater State and for how long. An on-time graduation rate is considered to be two or four years, unlike the "overall" graduation rate that can vary four to six years, depending on the degree.
Pay attention to the on-time graduation rates if you're planning on completing your degree in four years. They can also be used to understand exactly how much you'll be paying for college, as prolonging a graduation means paying more for your degree.
Looking for Bridgewater State's acceptance rates?
What are Bridgewater State University's Retention Rates Like?
With 79.0% of students making it past their freshman year, Bridgewater State University has freshman retention rates above the national average of 71.2%.
Any Questions?
Bridgewater State Graduation Rates for Full-Time Students
The following information is based upon data for students who were "First-Time/Full-Time Undergraduate Degree Seekers" at Bridgewater State.
Out of the 2,569 degree seeking undergraduates new to Bridgewater State University in 2016, 1,493 (about 58%) are considered first-time/full-time .
Given that the percentage of first-time full-time undergraduates is so low, the mission of Bridgewater State may reflect other priorities such as providing education for "returning" or "part-time" students. The following data should be discounted accordingly.
If you are not a "First-Time/Full-Time Undergraduate Degree Seeker" then you will want to ask Bridgewater State University about graduation rates for other more appropriate groups of students.
With rates of 28.9% and 57.9% for on-time (two or four years depending on the degree) graduations and overall graduation rates, respectively, Bridgewater State University does an average job of graduating its first-time/full-time students on time and an above average job at graduating them overall.
Based on the caliber of first-time/full-time students that attend Bridgewater State University we would expect an overall graduation rate of 46.0%. However, students are graduating at a rate that is 11.8% higher. That means Bridgewater State University is performing above average at graduating students based upon those students' anticipated academic achievement in college.
The Majority of First-Time/Full-Time Non-Grads at This School Dropped Out.
42.1% of students at Bridgewater State University failed to graduate within 150% of the expected time. The majority did so because they dropped out.
Additional Considerations
How many people drop out of college?