Cisco College Housing Costs
Cisco College Dorm & Dining Costs and How They Measure up?
Realizing the many expenses associated with going to college can allow you to make a good decision. These extra costs of housing, food, and supplies add up quick!
On this page you will find:
Cisco College Room and Board Expenses
Housing and dining plans at Cisco College are combined. The typical student spent about $4,696 in 2020 to live on campus.
The table below will show you the expected costs of on-campus and off-campus housing and other expenses for Cisco College.
| Expense | On Campus | Off Campus |
| --- | --- | --- |
| Room and Board | $4,557 | $4,557 |
| Other Living Expenses | $5,477 | $6,214 |
| Books and Supplies | $1,600 | $1,600 |
| Total | $11,634 | $12,587 |
Forecasted Total of $48,760 in Room & Board Over Four Years
There has been an average 2.1% cost adjustment every year over the past five years in Cisco College room & board costs, compared to a nationwide average change of 2.4%. If existing trends in housing and meal expenses go on, we predict incoming first years in 2021 to pay about $11,851 for their first year of school. In their last year an undergraduate might spend around $12,073 for a two-year degree, and $12,533 for a bachelor's degree.
The room and board total over the course of four years would be close to $48,760; for just two years it would be about $23,925.
* estimated
Details on Your Campus Home
Are you wondering whether you may be required to live on campus? If you are a first-time full-time student, some schools may require it. See the table below to find out whether Cisco College does or not, as well as the on-campus housing capacity.
| Question | Answer |
| --- | --- |
| Are Freshmen Required to Live on Campus? | No |
| On-Campus Housing Capacity | 357 |
Below Average Campus Costs
Cisco College students pay only $11,634 to live on campus. A great deal considering the national typical cost is $14,951.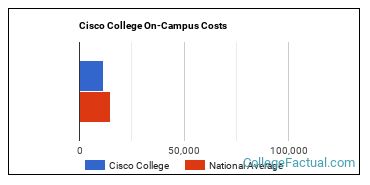 Find Out More About Cisco College
References
More about our data sources and methodologies.