by our College
Data Analytics Team
 Unbiased
Factual Guarantee
Where Is Cox College?
The map below shows where Cox College is located and can give you an idea of the surrounding cities and towns. Is the campus close enough to home for your liking? Be sure you can enjoy the area around the campus, too.
Why Location Matters
You won't spend all of your on campus when you attend the school. You should know if the area arround Cox College is in a safe neighborhood and how close it is to other cities in the general area.
Cox College Location and Map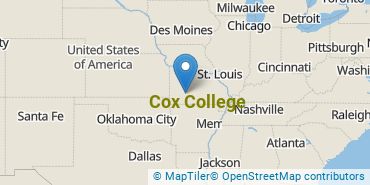 Contact details for Cox College are given below.
| | Contact Details |
| --- | --- |
| Location: | 1423 N Jefferson, Springfield, MO 65802-1917 |
| Phone: | 417-269-3401 |
| Website: | https://coxcollege.edu/ |
View a list of the best schools in Missouri.
Popular Reports
College Rankings

Ranking Types

Athletes

Students From
Best by Location
Degree Guides by Major

Fields of Study

Popular Majors

Popular Majors
Graduate Programs

By Degree LevelPopular Programs
Compare Your School Options