Troy, New York and Milwaukee, Wisconsin
College Factual has released their 2018 rankings for diversity. Marquette did very well in these rankings that recognize colleges for diversity in race, gender, age, and location of origin.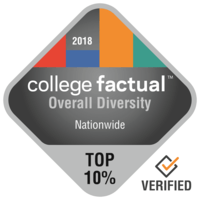 Marquette Recognized for Exceptional Diversity on Campus
Marquette is ranked 172 out of 2,356 colleges and universities analyzed for diversity. This puts them in the top 180 when it comes to diversity.
Marquette earned this ranking by achieving diversity of race, age, gender, and geographic origin on campus.
Marquette improved its ranking position 14 slots over the previous year's ranking of 186.
Read more about diversity at Marquette. See the full diversity ranking.
Work for Marquette? Insert your quote here...

Your Name, Your Title
Wisconsin State Rankings Review:
Marquette University is ranked 2 out of 54 colleges in the state of Wisconsin for diversity. This means Marquette is in the top 10 when it comes to diversity in Wisconsin.
See the full Wisconsin ranking for diversity.
Share This:
Seeking diversity on campus? Consider Marquette ranked highly in a 2018 @CollegeFactual college diversity analysis.
Tweet It!
Post It!
About these Rankings
To rank colleges based on diversity, College Factual analyzed the age, gender, race, and location of origin of enrolled students. The greater the variety, the higher a college will rank for diversity. Read more about the diversity ranking.
About Marquette University:
Marquette University is located in Milwaukee, Wisconsin in a city setting. Marquette serves approximately 8,340 undergraduate students and attracts students from across the country. The most popular home-states for students are Illinois, Wisconsin, and Minnesota. Learn more about the components of diversity at Marquette including ethnic, gender, and age diversity.
About College Factual:
College Factual, located in Troy, New York, is the leading source of data analytics and insights on college outcomes. College Factual provides in-depth coverage for over 2,500 colleges and universities and over 350 college majors. These insights are available to students from over 200 countries interested in pursuing accredited college degree programs in the United States. Learn more about the methodologies employed by College Factual.