2021 Best Colleges for General Architecture in the The Plains States Region
Approximately 6,093 general architecture degrees were awarded to students last year in the United States. With so many options it can be a challenge finding the best fit for you. This year's Best Colleges for General Architecture in the The Plains States Region ranking analyzed 2 colleges and universities that offer a bachelor's degree in general architecture. We look at over 20 factors to determine the top 0 schools for General Architecture students in the The Plains States Region.
Choosing a Great General Architecture School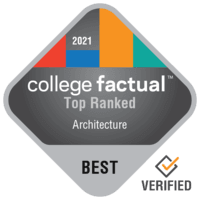 Your choice of general architecture school matters. Important measures of a quality architecture program can vary widely even among the top schools. Below we explain some of the most important factors to consider before making your choice:
Quality Overall is Important
The overall quality of a school is important to ensure a quality education, not just how well they do in a particular major. To take this into account we include a college's overall Best Colleges ranking which itself looks at a collection of different factors like degree completion, educational resources, student body caliber and post-graduation earnings for the school as a whole.
Graduates Earn More After College
A general architecture degree from colleges on this list typically results in above average earnings after graduation. Recent general architecture graduates from The Plains States colleges with a bachelors degree earned an average of $45,675 in 2017-2018.
Other Factors We Consider
In addition to the above, you should consider some of the following factors:
Major Focus - How much a school focuses on General Architecture students vs. other majors.
Major Popularity - How many other general architecture students choose this school.
Accreditation - Whether a school is regionally accredited and/or a recognized general architecture related accrediting body.
Our full ranking methodology documents in more detail how we consider these factors to identify the best schools for General Architecture students in the The Plains States Region.
Best Schools to Study General Architecture in The Plains States
Below you'll see a list of the best colleges and universities to study general architecture.
Best Architecture Colleges in the The Plains States Region
University of Minnesota - Twin Cities is one of the best schools in the country for general architecture. Located in the city Minneapolis, UMN Twin Cities is a public college with a very large student population.
Grads of the architecture program state that they receive average early career earnings of $40,100.
More…
Request Information
Drury University is a wonderful decision for students pursuing a General Architecture degree. Drury University is a small private not-for-profit school located in the medium-sized city of Springfield.
Graduates of the architecture program earn about $46,100 for their early career.
More…
Request Information
Best General Architecture Colleges by State
Explore the best general architecture colleges for a specific state in this the The Plains States region.
More General Architecture Rankings in the The Plains States Region
Rankings in Majors Related to Architecture
General Architecture is one of 8 different types of Architecture & Related Services programs to choose from.
Most Popular Majors Related to Architecture
View All Architecture Related Majors >
Notes and References
The bars on the spread charts above show the distribution of the schools on this list +/- one standard deviation from the mean.
The Integrated Postsecondary Education Data System (IPEDS) from the National Center for Education Statistics (NCES), a branch of the U.S. Department of Education (DOE) serves as the core of the rest of our data about colleges.
Some other college data, including much of the graduate earnings data, comes from the U.S. Department of Education's (College Scorecard).
Credit for the banner image above goes to Danichou. More about our data sources and methodologies.