2021 Highest Paid Engineering Technologies Graduates in Kentucky
Finding the Best Engineering Technologies School for You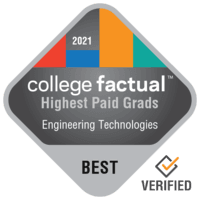 In 2018-2019, 531 bachelor's degrees were awarded to engineering technologies students who went to a Kentucky college or university. This makes it the #16 most popular major in the state. This means that colleges and universities in the state were responsible for awarding 0.0% of all the engineering tech bachelor's degrees in the country. When choosing the right school for you, it's important to arm yourself with all the facts you can. To that end, we've created a number of major-specific rankings, including this Highest Paid Engineering Tech list to help you make the college decision.
For this year's Highest Paid Engineering Technologies Graduates in Kentucky ranking, we looked at 5 colleges that offer a bachelor's in engineering tech.
In this ranking, we use early career salaries - salaries 10 years from when a student started college. This is the salary typically earned 4-6 years after graduation, but may be different depending on how long a person takes to complete their degree.
Comparing Average Salaries of Engineering Technologies Majors
The average engineering technologies major who graduates from a school in Kentucky earns about $52,544 per year during the early years of their career. This means that graduates with bachelor's degrees in this field make 32% more than the average college graduate salary of $39,802.
The national average salary for engineering tech bachelor's degree holders is $55,227. That's pretty close to the average for students who get their degree from a school in Kentucky.
Average Salary for Engineering Tech Graduates from Schools in Kentucky 52,544
Average Salary for Engineering Tech Graduates from Schools Nationwide 55,227
National Average Salary for All College Grads (Regardless of Major) 39,802
College Combat
In addition to our rankings, you can take two colleges and compare them based on the criteria that matters most to you in our unique tool, College Combat. Go ahead and give it a try, or bookmark the link so you can check it out later.
2021 Highest Paid Engineering Technologies Grads in Kentucky
The highest paid engineering tech majors graduate from the following colleges and universities.
Best Schools for Highly Paid Engineering Tech Graduates in Kentucky
Eastern Kentucky University earned the #1 spot in our 2021 rankings. Eastern is a large public school located in the distant town of Richmond.
Request Information
Northern Kentucky University comes in at #4 in this year's ranking. Located in the suburb of Highland Heights, NKU is a public school with a fairly large student population.
Request Information
Our rankings recognize Morehead State University as the #6 school in this year's rankings. Located in the remote town of Morehead, Morehead State University is a public college with a medium-sized student population.
Request Information
Best Engineering Technologies Colleges in the Southeast Region
Explore all the Best Engineering Technologies Schools in the Southeast Area or other specific states within that region.
Engineering Technologies Related Rankings by Major
Engineering Tech Majors to Study
View All Engineering Tech Related Majors >
Most Popular Related Majors
View All Engineering Tech Related Majors >
Notes and References
The Integrated Postsecondary Education Data System (IPEDS) from the National Center for Education Statistics (NCES), a branch of the U.S. Department of Education (DOE) serves as the core of the rest of our data about colleges.
Some other college data, including much of the graduate earnings data, comes from the U.S. Department of Education's (College Scorecard).
Credit for the banner image above goes to KUKA Systems GmbH.
More about our data sources and methodologies.