2021 Best Colleges in the United States for Students from Hong Kong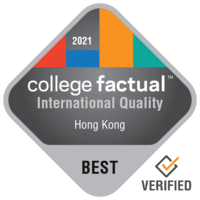 It's not easy to decide which college to attend when there so many options available for international students. One of our goals at College Factual is to give you as much information as we can - such as our Best Colleges for Hong Kongese Students ranking - to help you make that decision.
We analyzed 204 colleges and universities across the United States to determine which were the best for Hong Kongese students. Our ranking methodology focuses a number of different objective factors - such as the overall quality of the school, number of total international students at the school, and the percentage of international students on campus - to make this determination.
Get more details on our ranking methodology.
One Size Does Not Fit All
We know that one set of rankings doesn't always help you determine the best school for you, so we've created the ability to narrow your list by location as well as alternative rankings that prioritize different factors such as those of importance to online students or returning adults or those who value diversity and value for your money.
We've created a tool called College Combat that lets you create your own customized comparisons based on the factors that matter the most to you. We encourage you to try it out and pit your favorite colleges and universities head to head! If you don't have time right now, you can bookmark it for later.
Top Colleges in the U.S. for Students from Hong Kong
See which schools came out on top of our ranking:
Rest of the Top 15% Best Colleges for Hong Kongese students
Not only did these schools make the top 31 list, but they also landed in the top 15% of this year's ranking:
Honorable Mentions
These schools also performed well in our Best Colleges for Hong Kongese Students ranking:
| Rank | College | Location |
| --- | --- | --- |
| 32 | University of Wisconsin - Madison | Madison, WI |
| 33 | Georgia Institute of Technology - Main Campus | Atlanta, GA |
| 34 | Princeton University | Princeton, NJ |
| 35 | Pennsylvania State University - University Park | University Park, PA |
| 36 | Savannah College of Art and Design | Savannah, GA |
| 37 | George Washington University | Washington, DC |
| 38 | University of Rochester | Rochester, NY |
| 39 | Michigan State University | East Lansing, MI |
| 40 | Rice University | Houston, TX |
| 41 | Arizona State University - Tempe | Tempe, AZ |
Notes and References
Footnotes
*Avg Tuition and Fees and Avg 4-Year Grad Rate are for the top 25 schools only.
References
The Integrated Postsecondary Education Data System (IPEDS) from the National Center for Education Statistics (NCES), a branch of the U.S. Department of Education (DOE) serves as the core of our data about colleges.
Some other college data, including much of the graduate earnings data, comes from the U.S. Department of Education's (College Scorecard).
Information about the national average student loan default rate is from the U.S. Department of Education and refers to data about the 2016 borrower cohort tracking period for which the cohort default rate (CDR) was 10.1%.
More about our data sources and methodologies.