2021 Best Colleges in the United States for Students from Israel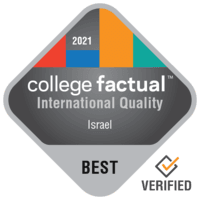 When pursuing a degree in today's world, international students have many different options to choose from. College Factual has developed its Best Colleges for Israeli Students ranking as one item you can use to help make this decision.
After analyzing 89 schools in the United States, we came up with our list of those that offered the best educational experiences for Israeli students. Our ranking is based on several objective factors, including the school's overall quality and the total number of international students at the school. We steer clear of subjective measures since they don't give a clear picture when determining how one school compares to another.
Learn more about our ranking methodology.
Customizing Your List
Since one ranking on its own is not enough to give you a complete understanding of your educational options, you can refine this list by location. We've also developed a number of other tools and rankings based on other factors. These other rankings highlight colleges that excel in other factors such as value or diversity as well as schools that excel in serving different groups of students such as online students or returnings adults.
One of our other unique offerings is College Combat. This tool lets you build your own customized comparisons utilizing the factors that are most important to you. Test it out by comparing your favorite schools against others you are considering, or bookmark the tool so you can experiment with it later.
Top Colleges in the U.S. for Students from Israel
See which schools came out on top of our ranking:
Notes and References
Footnotes
*Avg Tuition and Fees and Avg 4-Year Grad Rate are for the top 25 schools only.
References
The Integrated Postsecondary Education Data System (IPEDS) from the National Center for Education Statistics (NCES), a branch of the U.S. Department of Education (DOE) serves as the core of our data about colleges.
Some other college data, including much of the graduate earnings data, comes from the U.S. Department of Education's (College Scorecard).
Information about the national average student loan default rate is from the U.S. Department of Education and refers to data about the 2016 borrower cohort tracking period for which the cohort default rate (CDR) was 10.1%.
More about our data sources and methodologies.