ABTS Nashville Housing Costs
How Do ABTS Nashville's Room and Board Costs Compare to Other Colleges?
Room, board, as well as other charges can add up to a significant amount. Just how much does American Baptist College request for these essentials, and how does it compare to other schools?
On this page you will find:
ABTS Nashville Living Expenses
ABTS Nashville offers students both housing and dining options. The on-campus housing cost for any average student was $4,240 in 2020, and the cost of a standard dining plan was $4,400.
The table below will show you the expected prices of on-campus and off-campus housing and dining plans for American Baptist College.
| Expense | On Campus | Off Campus |
| --- | --- | --- |
| Room and Board | $8,640 | $9,624 |
| — Housing |       $4,240 | |
| — Meals |       $4,400 | |
| Other Living Expenses | $4,430 | $4,430 |
| Books and Supplies | $1,500 | $1,500 |
| Total | $14,570 | $15,554 |
Planning on Spending 4 Years On Campus? Expected Cost is $58,280
For the past five years, ABTS Nashville meal plans and housing costs have not changed. Incoming first-year students in 2021 can expect to spend approximately $14,570 for housing and dining expenses based on existing trends. They can also expect to pay that same amount in subsequent years. Students obtaining their bachelor's degree will wind up having to pay a total sum of around $58,280 in room and board by the time they finish, while two-year students will pay a total sum of about $29,140.
* estimated
Answers to Questions About Living on Campus at ABTS Nashville
Are you wondering whether you may be required to live on campus? If you are a first-time full-time student, some schools may require it. See the table below to find out whether ABTS Nashville does or not, as well as the on-campus housing capacity.
| Question | Answer |
| --- | --- |
| Are Freshmen Required to Live on Campus? | No |
| On-Campus Housing Capacity | 85 |
Cost to Live On Campus is Average
ABTS Nashville on-campus students pay as much as $14,570 for room and board. This cost is similar to the nationwide average of $14,951.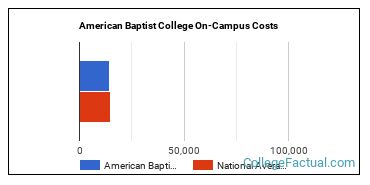 Find Out More About American Baptist College
References
More about our data sources and methodologies.