2022 Plant Sciences Degree Guide
Your green thumb has inspired you to search for a career involving plants. Your bedroom window overflows with potted plants and you love nothing more than caring for plants and learning more about them. If this is the case, a major in Plant Science might be for you.
Plant Science gives you the ability to learn how to breed, cultivate, and produce agriculture plants. You also learn the process behind producing and distributing plant products. Classes in areas such as biotechnology, botany, agriculture economics, entomology, and plant pathology will provide the basis for how plants feed the general public and how to combat drought, disease and any other issues that affect plant production.
While you have the ability to major in general Plant Science, students often decide to concentrate in a certain area such as Agronomy and Crop Science, Horticultural Science, Agricultural and Horticultural Plant Breeding, Plant Protection and Integrated Pest Management, Range Science and Management.
Plant Sciences Degrees Remain Stable
1.0%
Increase in Graduates
Plant Sciences was the 162nd most popular major in the 2019-2020 school year. Colleges in the United States reported awarding 3,094 degrees in this year alone. This is approximately the same as the 3,064 graduates the prior year.
Approximately 122 colleges in the U.S. offer a plant sciences degree of some kind. Our 2022 Best Plant Sciences Schools ranking analyzes 80 of these schools to determine the best overall colleges for plant sciences students. Continue reading to check out one of our many unbiased rankings of plant sciences programs later in this article.
What Are The Requirements For a Degree in Plant Sciences
Students with strong analytical and critical thinking skills would make ideal plant scientists. A lot of time is spent collecting and analyzing data through a variety of methods. Someone with a strong background in sciences, specifically biology, chemistry, and physical sciences, would be successful in this field as you work to test, genetically engineer, and maintain plants.
Although you work the typical 40-hour workweek, you don't spend too much time behind a desk. Plant Scientists are often out in the field working directly with plants or performing experiments in the lab.
Internships or summer jobs with research labs or farms provides you with experience gathering and analyzing data along with the ability to decide if this is the career path you wish to follow.
Plant Sciences Degree Program Entry Requirements
A high school diploma or equivalent is typically required for most plant sciences degree programs and many students will need a minimum GPA and SAT/ACT score depending on the school. In addition to these basic plant sciences program qualifications, to serve in some plant sciences careers, special certification may be required outside of your degree.
Plant Sciences Degree Types
There are many different plant sciences degree levels. Plant Sciences programs offered by schools range from a to a , which is the highest plant sciences degree you can get. Different plant sciences degrees vary in how long they take.
| Degree | Credit Requirements | Typical Program Length |
| --- | --- | --- |
| Associate Degree | 60-70 credits | 2 years |
| Bachelor's Degree | 120 credits | 4 years |
| Master's Degree | 50-70 credits | 1-3 years |
| Doctorate | Program required coursework including thesis or dissertation | At least 4 years |
A bachelor's degree is the most common level of education achieved by those in careers related to plant sciences, with approximately 29.0% of workers getting one. People currently working in careers related to plant sciences tend obtained the following education levels.
| Level of Education | Percentage of Workers |
| --- | --- |
| Doctoral Degree | 27.5% |
| Bachelor's Degree | 25.7% |
| Post-Doctoral Training | 10.4% |
| Master's Degree | 9.3% |
| High School Diploma | 8.2% |
Most workers in plant sciences have at least a bachelor's degree. View the chart below to get an idea of what degree level most of those in plant sciences careers have.
The education level required is different depending on the plant sciences career you are seeking.
Career Opportunities for A Degree In Plant Sciences Graduate
Below Average
Number of Jobs
$35.9k
Average Starting Salary
-0% Decline
Job Outlook 2016-26
A degree in Plant Sciences opens many job opportunities for graduates. You may choose to work in research labs, farms, processing plants, or for food distributors. As a food scientist you also have the option to work for governments or research for universities and colleges.
Steady Demand Projected for Plant Sciences Careers
Want a job when you graduate with your plant sciences degree?
The following options are some of the most in-demand careers related to plant sciences.
| Occupation Name | Projected Jobs | Expected Growth |
| --- | --- | --- |
| Farmers, Ranchers, and Agricultural Managers | 1,020,700 | -0.8% |
| Farming, Fishing, and Forestry Worker Supervisors | 49,700 | 2.1% |
| Conservation Scientists | 23,700 | 6.3% |
| Soil and Plant Scientists | 21,700 | 9.0% |
| Agricultural Sciences Professors | 13,600 | 7.9% |
Plant Sciences Degree Salary Potential
Recently graduated plant sciences students earned an average of $35,854 in 2017-2018. Earnings can range from as low as $20,200 to as high as $65,100. As you might expect, salaries for plant sciences graduates vary depending on the level of education that was acquired.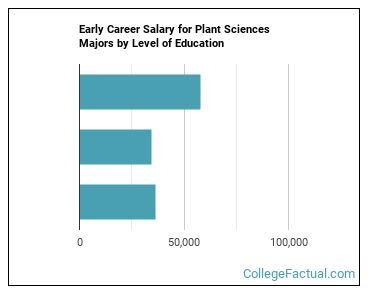 Highest Paid Plant Sciences Careers
Salaries for plant sciences graduates can vary widely by the occupation you choose as well. The following table shows the top highest paying careers plant sciences grads often go into.
| Occupation Name | Median Average Salary |
| --- | --- |
| Forestry & Conservation Science Professors | $92,550 |
| Agricultural Sciences Professors | $90,890 |
| Farmers, Ranchers, and Agricultural Managers | $79,940 |
| Soil and Plant Scientists | $70,630 |
| Animal Scientists | $67,690 |
Getting Your Plant Sciences Degree
With over 397 different plant sciences degree programs to choose from, finding the best fit for you can be a challenge. Fortunately you have come to the right place. We have analyzed all of these schools to come up with hundreds of unbiased plant sciences school rankings to help you with this.
Study Areas in Plant Sciences
One of 16 majors within the Agriculture & Agriculture Operations area of study, Plant Sciences has other similar majors worth exploring.
Plant Sciences Concentrations
View All Plant Sciences Concentrations >
Most Popular Related Majors
View All Plant Sciences Related Majors >
References