2022 General Education Degree Guide
Educators get the chance to inspire and motivate the future by working with students of all ages and backgrounds. This major could prepare you for a career teaching or in another educational field such as administrator, counselor or public worker. Students will learn basic principles in educational psychology, and the art of teaching which includes planning, grading, and paper work. As a teacher you will learn how to handle school safety and health issues. This is a job that allows you to work with students of all ages from pre-k to 12th grade, from all different backgrounds and walks of life.
Although programs from different schools will vary you could be required to take an educational psychology, issues in contemporary education, foundations of language and literacy, exceptional and at-risk learners and along with your other core classes required by your school. Also, in order to get your certification you will be required to do a certain number of field experience hours as well as complete at least one semester of student teaching.
General Education Degrees Remain Popular
-4.3%
Increase in Graduates
General Education was the 35th most popular major in the 2019-2020 school year. Colleges in the United States reported awarding 28,030 degrees in this year alone. This represents a 4.3% reduction in education degrees awarded over the prior year's total of 29,223.
The United States has 783 different schools where you can get a degree in general education. This year's Best General Education Schools ranking compares 501 of them to identify the best overall programs in the country. Explore this or one of our many other custom education rankings further below.
General Education Degree Requirements
In order to be comfortable as a teacher it is necessary for students to become familiar with public speaking. As a teacher you will be required to talk in front of a classroom full of students, but you will also talk to administrators, other school staff, and parents and guardians. Public speaking is a skill that you will want to be well versed in. You should also enjoy working with children and with other people. This is not a job where you will sit in a cubicle all day.
You should also be creative and passionate about learning. As a teacher you need to differentiate instruction and get your students excited about the material so that they are willing to learn from you. You will also acquire skills to help sell your subject. You will be responsible for motivating your students and ensuring that they are giving you their best work. Patience is an important trait to have as an educator. Teaching and re-teaching will happen often to ensure that all students understand. Organization is key in order to be prepared, effective, and to use time efficiently.
Most schools require field experience hours before you can get into the education program. This allows you to see what it is like to be a teacher from the other side of the desk. Also, in order to get certified you will be required to complete a certain number of student teaching hours.
Getting Accepted Into a General Education Program
A high school diploma or equivalent is typically required for most education degree programs and many students will need a minimum GPA and SAT/ACT score depending on the school. Specific education careers may require a certain level of degree attainment or additional certifications beyond that.
General Education Degree Types
There are various different levels of education degrees. You can get anything from a in general education to the highest education degree, a . The time it takes to complete a education degree varies depending on the program.
| Degree | Credit Requirements | Typical Program Length |
| --- | --- | --- |
| Associate Degree | 60-70 credits | 2 years |
| Bachelor's Degree | 120 credits | 4 years |
| Master's Degree | 50-70 credits | 1-3 years |
| Doctorate | Program required coursework including thesis or dissertation | At least 4 years |
A doctor's degree is the most common level of education achieved by those in careers related to education, with approximately 89.8% of workers getting one. See the the most common levels of education for education workers below.
| Level of Education | Percentage of Workers |
| --- | --- |
| Doctoral Degree | 89.8% |
| Master's Degree | 9.4% |
| Bachelor's Degree | 0.6% |
| Post-Doctoral Training | 0.1% |
| Post-Master's Certificate | 0.1% |
Most workers in education have at least a doctor's degree. The chart below shows what degree level those who work in general education have obtained.
The education level required is different depending on the education career you are seeking.
Career Opportunities for Education Majors
Below Average
Number of Jobs
$47.1k
Average Starting Salary
10% Growth
Job Outlook 2016-26
There are many different career paths that you can take with a degree in education. Many people start as classroom teachers and work their way up to principle or administrators. Other people will work as a classroom teacher for their entire career. It depends what focus you decide to take.
Most states now require you to get your master's degree in order to be certified. You will usually have a year before it is necessary to pursue your master's degree, giving you time to get a job and work on getting your master's at the same time. For most states, there is currently a surplus of teachers making it hard to find a job in certain areas. Math and science teachers tend to be more in demand.
Solid Growth Projected for Education Careers
Want a job when you graduate with your education degree? General Education careers are expected to grow 10.3% between 2016 and 2026.
The following options are some of the most in-demand careers related to general education.
| Occupation Name | Projected Jobs | Expected Growth |
| --- | --- | --- |
| Education Professors | 82,200 | 10.3% |
Education Degree Salary Potential
Recently graduated general education students earned an average of $47,126 in 2017-2018. Earnings can range from as low as $14,900 to as high as $103,600. As you might expect, salaries for education graduates vary depending on the level of education that was acquired.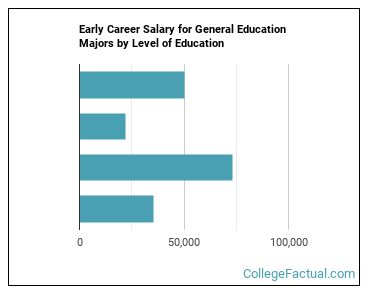 Highest Paid Education Careers
Salaries for general education graduates can vary widely by the occupation you choose as well. The following table shows the top highest paying careers education grads often go into.
| Occupation Name | Median Average Salary |
| --- | --- |
| Education Professors | $73,680 |
Getting Your General Education Degree
With over 1,065 different education degree programs to choose from, finding the best fit for you can be a challenge. Fortunately you have come to the right place. We have analyzed all of these schools to come up with hundreds of unbiased education school rankings to help you with this.
Study Areas in General Education
General Education is one of 14 different types of Education programs to choose from.
Majors Similar to Education
View All Education Related Majors >
References