2021 Highest Paid Chemical Engineering Graduates
Finding the Best Chemical Engineering School for You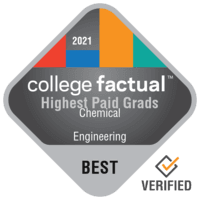 Chemical Engineering is the #44 most popular major in the country with 11,423 bachelor's degrees awarded in 2018-2019. When choosing the right school for you, it's important to arm yourself with all the facts you can. To that end, we've created a number of major-specific rankings, including this Highest Paid Chem Eng list to help you make the college decision.
For this year's Highest Paid Chemical Engineering Graduates ranking, we looked at 134 colleges that offer a bachelor's in chem eng.
The numbers used in this ranking are early career salaries, which we define to be 10 years after a student started college. This is the salary typically earned 4-6 years after graduation, but may be different depending on how long a person takes to complete their degree.
How Much Do Chemical Engineering Majors Make After Graduation?
The average chemical engineering major who graduates from a school in the United States earns about $62,713 per year during the early years of their career. This is great news for these degree holders since it is 58% more than the national average of $39,802 for typical college graduates!
College Combat
In addition to College Factual's rankings, you may want to take a look at College Combat, our unique tool that lets you pit your favorite schools head-to-head and compare how they rate on factors that most interest you. When you have some time, check it out - you may want to bookmark the link so you don't forget it.
2021 Highest Paid Chemical Engineering Grads in the United States
Learn more about the colleges and universities that produce the highest paid chem eng graduates.
Top 25 Best Schools for Highly Paid Chem Eng Graduates
Rest of the Top Schools for Highest Paid Chemical Engineering Graduates
Additional Noteworthy Schools
Here are some additional great schools for Chem Eng students seeking high pay that almost earned our Highest Paid Chemical Engineering Graduates award.
Chemical Engineering by Region
View the Highest Paid Chemical Engineering Graduates for a specific region near you.
Chemical Engineering Related Rankings by Major
Chemical Engineering is one of 38 different types of Engineering programs to choose from.
Most Popular Related Majors
View All Chem Eng Related Majors >
Notes and References
The Integrated Postsecondary Education Data System (IPEDS) from the National Center for Education Statistics (NCES), a branch of the U.S. Department of Education (DOE) serves as the core of the rest of our data about colleges.
Some other college data, including much of the graduate earnings data, comes from the U.S. Department of Education's (College Scorecard).
Credit for the banner image above goes to Mikulova.
More about our data sources and methodologies.