by our College
Data Analytics Team
 Unbiased
Factual Guarantee
2023 Electrical Engineering Degree Guide
Electricity serves a vital function in our modern world. As Electrical Engineer works with electricity every day, designing new systems and making repairs to old applications in order to keep our world electrified. As an Electrical Engineering major, you will study how electricity works, how it is generated, and how it is used. Who knows, you may even be revered as the next Thomas Edison in this field. You will work on developing and designing all types of electronic equipment which includes broadcast and communication systems, MP3 players, GPS systems, and the electrical systems of automobiles and aircrafts. Computer hardware is also part of this field.
Courses that you will come across in this major can include: statistics, calculus, circuit analysis and design, physics, digital systems, electrodynamics, statistics, physics, technical writing for engineering, semiconductor technology, and electric components.
Concentrations in this major include: Laser Optics, Telecommunication, and Electronics and Communications.
Electrical Engineering Degrees Remain Popular
-6.3%
Increase in Graduates
Electrical Engineering was the 39th most popular major in the 2020-2021 school year. Colleges in the United States reported awarding 28,844 degrees in this year alone. This 1,826 less than the prior year, a decrease of 6.3%.
Our 2023 Best Electrical Engineering Schools ranking analyzes 285 of these schools to determine the best overall colleges for electrical engineering students. Explore this or one of our many other custom EE rankings further below.
Best Electrical Engineering Schools by Degree
What Are The Requirements For a Degree in Electrical Engineering
Students should be prepared to be continuously learning in this field, even after graduation. As technology changes so will the approach you take to solving problems. College courses will be heavy with math and science. Be prepared to use many advanced principles in mathematics to analyze and deign your work.
This major appeals to students who love learning how things work and enjoy taking things apart and putting them back together. If you work hard to learn the basics, you will get the satisfaction of seeing your ideas become a reality.
Most electrical engineers will work in groups, making teamwork an important skill. You should be reliable and pull your weight, while helping others and keeping an open mind about the way they approach a problem. Hone your communication skills to build good relationships with peers, professors, and other professionals. In your course-work as well as your future career, you will often need to explain your designs and your reasoning behind them. Learn to take constructive criticism and use it to improve your work.
Prior Education for an EE Program
A high school diploma or equivalent is typically required for most EE degree programs and many students will need a minimum GPA and SAT/ACT score depending on the school. In addition to these basic electrical engineering program qualifications, to serve in some EE careers, special certification may be required outside of your degree.
Electrical Engineering Degree Types
There are many different EE degree levels. Electrical Engineering programs offered by schools range from a to a , which is the highest EE degree you can get. Depending on the electrical engineering degree you choose, obtaining your diploma can take anwhere from 1 to 4+ years.
| Degree | Credit Requirements | Typical Program Length |
| --- | --- | --- |
| Associate Degree | 60-70 credits | 2 years |
| Bachelor's Degree | 120 credits | 4 years |
| Master's Degree | 50-70 credits | 1-3 years |
| Doctorate | Program required coursework including thesis or dissertation | At least 4 years |
A bachelor's degree is the most common level of education achieved by those in careers related to EE, with approximately 61.1% of workers getting one. See the the most common levels of education for EE workers below.
| Level of Education | Percentage of Workers |
| --- | --- |
| Bachelor's Degree | 62.7% |
| Master's Degree | 17.4% |
| Doctoral Degree | 6.8% |
| Associate's Degree (or other 2-year degree) | 4.6% |
| Post-Secondary Certificate | 2.4% |
About 91.6% of workers in careers related to EE obtain at least bachelor's degrees. See the chart below for the most common degree level workers in electrical engineering have received.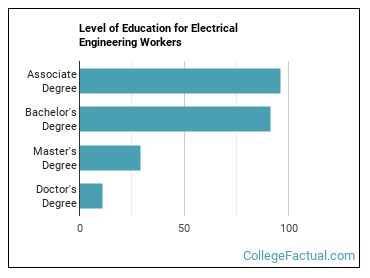 The education level required is different depending on the EE career you are seeking.
Career Opportunities for A Degree In EE Graduate
$74.4k
Average Starting Salary
7% Growth
Job Outlook 2016-26
Upon graduation you will be prepared to work as an Electrical Engineer for an engineering firm or as an independent contractor. Electrical Engineers are found working in power stations, designing electrical systems for buildings and communities, or creating wireless and portable devices. As technology continues to advance rapidly, there should be a demand for electrical engineers in both research and development.
Growth Projected for EE Careers
Want a job when you graduate with your EE degree? Electrical Engineering careers are expected to grow 6.7% between 2016 and 2026.
The following options are some of the most in-demand careers related to electrical engineering.
| Occupation Name | Projected Jobs | Expected Growth |
| --- | --- | --- |
| Electrical Engineers | 204,500 | 8.6% |
| Architectural and Engineering Managers | 190,000 | 5.5% |
| Electronics Engineers | 141,300 | 3.7% |
| Engineers | 141,000 | 6.4% |
| Aerospace Engineers | 73,800 | 6.0% |
How Much Money Do People With a EE Degree Make?
Electrical Engineering graduates between 2017-2019 reported earning an average of $74,359 in the 2019-2020 timeframe. Earnings can range from as low as $28,300 to as high as $144,716. As you might expect, salaries for EE graduates vary depending on the level of education that was acquired.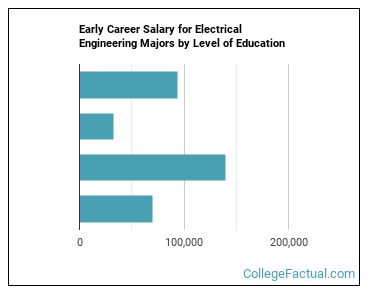 Highest Paid EE Careers
Salaries for electrical engineering graduates can vary widely by the occupation you choose as well. The following table shows the top highest paying careers EE grads often go into.
| Occupation Name | Median Average Salary |
| --- | --- |
| Architectural and Engineering Managers | $148,970 |
| Aerospace Engineers | $117,100 |
| Engineering Professors | $113,680 |
| Electronics Engineers | $107,930 |
| Electrical Engineers | $101,600 |
Getting Your Electrical Engineering Degree
With over 998 different EE degree programs to choose from, finding the best fit for you can be a challenge. Fortunately you have come to the right place. We have analyzed all of these schools to come up with hundreds of unbiased EE school rankings to help you with this.
Top Ranking Lists for Electrical Engineering
One of 40 majors within the Engineering area of study, Electrical Engineering has other similar majors worth exploring.
EE Concentrations
Popular Reports
College Rankings

Ranking Types

Athletes

Students From
Best by Location
Degree Guides by Major

Fields of Study

Popular Majors

Popular Majors
Graduate Programs

By Degree LevelPopular Programs
Compare Your School Options