2021 Top Women's D1 Softball Schools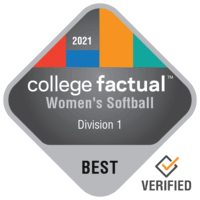 It's not easy to decide which college to attend when there are so many options available for student athletes. College Factual was founded, in part, to help students make the decision as to what would be the best school for them. Our Best Colleges for Division I Women's Softball ranking is part of that endeavor.
After analyzing 273 schools in the United States, we came up with our list of those that offered the best educational experiences for D1 Women's Softball athletes. Instead of depending on subjective information, we focus on objective factors to determine this ranking. These factors include such things as the athletic competitiveness of the school and the school's overall quality. This means that a school must provide students with a great education in addition to having a good sports team if it wants to rank well.
Learn more about our ranking methodology.
Customizing Your List
Since one ranking on its own is not enough to give you a complete understanding of your educational options, you can refine this list by location. We've also developed a number of other tools and rankings based on other factors. These other rankings highlight colleges that excel in other factors such as value or diversity as well as schools that excel in serving different groups of students such as online students or returnings adults.
One of our other unique offerings is College Combat. This tool lets you build your own customized comparisons utilizing the factors that are most important to you. Test it out by comparing your favorite schools against others you are considering, or bookmark the tool so you can experiment with it later.
Top Colleges in the U.S. for D1 Women's Softball athletes
See which schools came out on top of our ranking:
Rest of the Top 15% Best Colleges for D1 Women's Softball athletes
Not only did these schools make the top 41 list, but they also landed in the top 15% of this year's ranking:
Honorable Mentions
These schools also performed well in our Best Colleges for Division I Women's Softball ranking:
| Rank | College | Location |
| --- | --- | --- |
| 42 | Seton Hall University | South Orange, NJ |
| 43 | Loyola University Chicago | Chicago, IL |
| 44 | University of Mississippi | University, MS |
| 45 | University of Pittsburgh - Pittsburgh Campus | Pittsburgh, PA |
| 46 | Brigham Young University - Provo | Provo, UT |
| 47 | University of Kentucky | Lexington, KY |
| 48 | University of Georgia | Athens, GA |
| 49 | University of Utah | Salt Lake City, UT |
| 50 | University of Virginia - Main Campus | Charlottesville, VA |
| 51 | Belmont University | Nashville, TN |
| 52 | Central Michigan University | Mount Pleasant, MI |
| 53 | University of Massachusetts Amherst | Amherst, MA |
| 54 | Michigan State University | East Lansing, MI |
| 55 | Providence College | Providence, RI |
Notes and References
Footnotes
*Avg Tuition and Fees and Avg 4-Year Grad Rate are for the top 25 schools only.
References
More about our data sources and methodologies.