Alverno Housing Costs
What is the Cost of Living at Alverno College ?
Room, board, as well as other charges will add up to a lot. Just how much does Alverno College charge for these basics, and just how does it compare to other schools?
On this page you will find:
Alverno Living Expenses Housing and dining plans are priced out separately at Alverno. The typical student paid $4,000 for housing and $4,620 for dining in 2021.
The table below will show you the expected prices of both on-campus and off-campus housing and meal plans for Alverno College.
| Expense | On Campus | Off Campus |
| --- | --- | --- |
| Room and Board | $8,770 | $8,096 |
| — Housing |       $4,000 | |
| — Meals |       $4,620 | |
| Other Living Expenses | $5,668 | $6,772 |
| Books and Supplies | $768 | $768 |
| Total | $15,206 | $15,636 |
What's Room & Board Going to Cost Over 4 Years? The Expected Total Comes to $80,406
On-campus housing and dining at Alverno have changed an average of 0.9% for each year of the past five years, compared to a nationwide average change of 2.4%. If today's tendencies in housing and meal expenses carry on, we predict incoming freshmen in 2022 to spend about $16,758 in their first year of college. Those individuals might wind up spending around $18,669 in their 2nd year, and $23,948 in their fourth year.
Bachelor's degree students will wind up spending a total sum of approximately $80,406 in housing and dining expenses by the time they complete their degree, while associate degree students might pay a total sum of about $35,427.
* estimated
How to Finance Your Alverno Education?
More Details on Living On Campus
Are you wondering whether you may be required to live on campus? If you are a first-time full-time student, some schools may require it. See the table below to find out whether Alverno does or not, as well as the on-campus housing capacity.
| Question | Answer |
| --- | --- |
| Are Freshmen Required to Live on Campus? | No |
| On-Campus Housing Capacity | 252 |
Campus Costs are Average Compared to Other Schools
Room, board, books, supplies, and other expenses for students living on campus at Alverno College are $15,206, close to the national average of $15,282.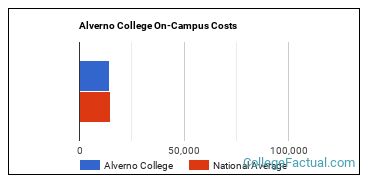 Find Out More About Alverno College
References
More about our data sources and methodologies.