Why Diversity Should Matter to You
What do we mean when we talk about diversity in college?
Broadly speaking, diversity is the word we use to describe a mixture of people and ideas, and the traditions, belief systems and cultures that come with them.
With all of this in mind, what does 'diversity in college' mean?
When most students seek diversity on a college campus, what they are actually seeking are opportunities to express themselves and find community with others who believe the same way, as well as opportunities to learn from those from different backgrounds and cultures.
Diversity can be promoted by the college in multiple ways. For one, institutions should be making an effort to hire a diverse faculty to teach students. But the school should also be doing the best they can to encourage meaningful interactions between people from differing backgrounds. This prevents students and faculty from becoming isolated and promotes positive connections.
Start now by Learning About Diversity at Bay State College, and how it is Similar to Other Schools in the Country.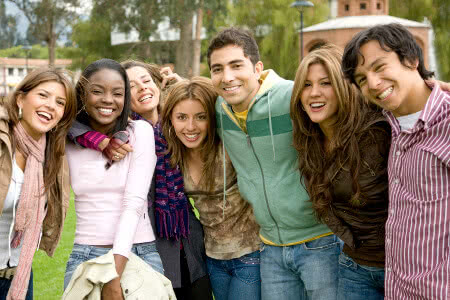 Overall Diversity is Good
The total diversity grade is created by adding up individual factors of ethnic, geographic, age and gender diversity.
Bay State College is thought to be above average in overall diversity, and is ranked #955 nationwide.
Bay State College Overall Diversity Score (67 out of 100)
Bay State College Overall Diversity Rank (955 out of 2,397)
Ethnic Diversity Here is Very Good
This highly diverse school may be a great place for young students to get to know other students who come from different cultures and backgrounds.
Bay State College is ranked #112 in ethnic diversity nationwide which is far above average.
Bay State College Ethic Diversity Rank (112 out of 2,655)
Explore Ethnic Diversity at Bay State College
If available, the chart below will display ethnic diversity among the faculty at Bay State College.
Male/Female Ratio Could Improve
This may not be the best choice if you're seeking equality between the sexes (when it comes to their presence on campus).
At Bay State College, the male to female student ratio is comparable to the national average of about 40:60 with a student body that is mostly female.
This college is ranked at #1,763 in male to female diversity nationwide. The undergraduate population is comprised of 377 males and 731 females.
Bay State College Gender Diversity Rank (1,763 out of 1,722)
Explore Male/Female Diversity at Bay State College
If available, the chart below will include the male to female distribution among Bay State College's faculty, as well as students.
School Tends to Attract Students From Its Home State
Do you want a local school that primarily pulls students from within Massachusetts? This could be a good option for you.
We've arrived at the geographic diversity of each school by looking at where matriculated undergraduates lived before they were admitted.
About 87.4% of the students attending Bay State College come from within Massachusetts. This puts Bay State College's level of geographic diversity below the national average and gives it a national geographic diversity ranking of #1,510.
Bay State College Location Diversity Rank (1,510 out of 2,397)
Dive Into Nationwide Geographic Diversity
The undergraduate student body is split among 12 states (may include Washington D.C.), as shown in the chart below.
Age Diversity Unknown
Some students may opt to be surrounded by learners who are the same age, while others seek more diverse perspectives from other age groups.
The traditional college student ranges in age from 18 to 22. For most of the colleges within our database, we were able to determine the age range of the undergraduate student body. Sadly, we were not able to do so for Bay State College, as the information is not available.
Questions About Diversity
How is Bay State College doing at attracting and supporting students from all financial backgrounds?

Even a school with high racial, ethnic and geographic diversity may not be diverse when it comes to the economic backgrounds of their students. To get a better idea of how Bay State College is supporting low-income students check the Financial Aid Page.

How important is diversity to Bay State College?

Contact the school to find out what they are doing to stimulate diversity, and what student groups, associations and clubs are available that encourage diverse perspectives on campus.