2021 Best Engineering Colleges for Non-Traditional Students in Delaware
Finding the Best Engineering Schools for Non-Traditional Students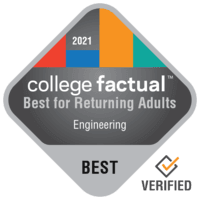 Engineering is one of the most popular subjects to study in Delaware. With 514 bachelor's degrees handed out in 2018-2019, it ranked 4th out of all the majors we track in the state. This means that of the 128,724 bachelor's that were awarded in the country, 0.4% were from a college or university in the state.
Not only do the schools that top this list have excellent engineering programs, but they also offer a lot of support to non-traditional students.
Some of the factors we look at when determining these rankings are overall quality of the engineering program at the school, affordability, and non-traditional population. Check out our ranking methodology for more information.
More Ways to Rank Engineering Schools
Since the program you select can have a significant impact on your future, we've developed a number of rankings, including this Best Engineering Schools for Non-Traditional Students list, to help you choose the best school for you.
In addition to College Factual's rankings, you may want to take a look at College Combat, our unique tool that lets you pit your favorite schools head-to-head and compare how they rate on factors that most interest you. Test it out when you get a chance! You may also want to bookmark the link and share it with others who are trying to make the college decision.
2021 Best Engineering School for Non-Traditional Students in Delaware
The following school tops our list of the Best Engineering Colleges for Non-Traditional Students.
Best Engineering School for Non-Traditional Students
University of Delaware has taken the #1 spot in this year's engineering ranking for non-traditional students. UD is a very large public school located in the large suburb of Newark. In addition to being on our best for non-traditional students list, UD has also earned the #1 rank in our Best Colleges for Engineering in Delaware ranking.
About 2.2% of UD students default on their loans in three years, which is lower than average. There are approximately 2,306 students at UD that take at least one class online. 2,422 students are part time.
Request Information
Best for Non-Traditional Students Engineering Colleges in the Middle Atlantic Region
Explore all the Best Engineering Schools for Non-Traditional Students in the Middle Atlantic Area or other specific states within that region.
Engineering Related Non-Traditional Student Rankings by Major
Engineering Majors to Study
View All Engineering Related Majors >
Most Popular Related Majors
View All Engineering Related Majors >
Notes and References
Footnotes
*Avg Cost is for the top school only.
References
More about our data sources and methodologies.