2021 Highest Paid Engineering Graduates
Finding the Best Engineering School for You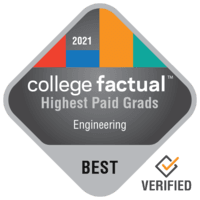 With 128,724 bachelor's degrees handed out in 2018-2019, engineering is the #4 most popular major in the United States. The engineering school you choose to invest your time and money in matters. To help you make the decision that is right for you, we've developed a number of major-specific rankings, including this list of the Highest Paid Engineering Graduates.
This year's Highest Paid Engineering Graduates ranking looked at 343 colleges that offer a bachelor's in engineering.
The numbers used in this ranking are early career salaries, which we define to be 10 years after a student started college. This is the salary typically earned 4-6 years after graduation, but may be different depending on how long a person takes to complete their degree.
How Much Do Engineering Majors Make After Graduation?
After graduating, engineering majors that go to school in the United States go on to jobs making an average of $62,200 per year. This means that graduates with bachelor's degrees in this field make 56% more than the average college graduate salary of $39,802.
College Combat
In addition to College Factual's rankings, you may want to take a look at College Combat, our unique tool that lets you pit your favorite schools head-to-head and compare how they rate on factors that most interest you. Test it out when you get a chance! You may also want to bookmark the link and share it with others who are trying to make the college decision.
2021 Highest Paid Engineering Grads in the United States
The following colleges produce the highest paid engineering graduates.
Top 25 Best Schools for Highly Paid Engineering Graduates
Rest of the Top Schools for Highest Paid Engineering Graduates
Remaining Award Winners
This list represents the rest of the schools awarded a Highest Paid Engineering Graduates badge. Showing in this list means the college was ranked in the top 15% of the 343 different United States engineering schools we analyzed.
Additional Noteworthy Schools
Here are some additional great schools for Engineering students seeking high pay that almost earned our Highest Paid Engineering Graduates award.
| Rank | College | Location |
| --- | --- | --- |
| 52 | Rensselaer Polytechnic Institute | Troy, NY |
| 53 | Montana Tech of the University of Montana | Butte, MT |
| 54 | Purdue University - Main Campus | West Lafayette, IN |
| 55 | University of Tulsa | Tulsa, OK |
| 56 | Liberty University | Lynchburg, VA |
| 57 | Stevens Institute of Technology | Hoboken, NJ |
| 57 | Providence College | Providence, RI |
| 58 | Brigham Young University - Provo | Provo, UT |
| 59 | University of Dayton | Dayton, OH |
| 60 | University of Wisconsin - Madison | Madison, WI |
| 61 | Ohio State University - Main Campus | Columbus, OH |
| 62 | University of San Diego | San Diego, CA |
| 63 | Arizona State University - Polytechnic | Mesa, AZ |
| 64 | University of St Thomas Minnesota | Saint Paul, MN |
| 65 | Johns Hopkins University | Baltimore, MD |
| 66 | Grand Valley State University | Allendale, MI |
| 67 | University of Maryland - College Park | College Park, MD |
| 68 | Prairie View A & M University | Prairie View, TX |
Engineering by Region
View the Highest Paid Engineering Graduates for a specific region near you.
Engineering Related Rankings by Major
Engineering Majors to Study
View All Engineering Related Majors >
Majors Similar to Engineering
View All Engineering Related Majors >
Notes and References
The Integrated Postsecondary Education Data System (IPEDS) from the National Center for Education Statistics (NCES), a branch of the U.S. Department of Education (DOE) serves as the core of the rest of our data about colleges.
Some other college data, including much of the graduate earnings data, comes from the U.S. Department of Education's (College Scorecard).
Credit for the banner image above goes to Petty Officer 3rd Class Declan Barnes.
More about our data sources and methodologies.