2021 Best Engineering Colleges for Non-Traditional Students in Vermont
Finding the Best Engineering Schools for Non-Traditional Students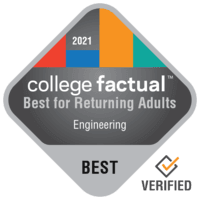 Engineering is one of the most popular subjects to study in Vermont. With 272 bachelor's degrees handed out in 2018-2019, it ranked 9th out of all the majors we track in the state. This means that colleges and universities in the state were responsible for awarding 0.2% of all the engineering bachelor's degrees in the country.
The schools that top this list are recognized because they have great engineering programs and a strong support system for non-traditional students.
When determining these rankings, we looked at things such as overall quality of the engineering program at the school, affordability, and presence of non-traditional students. For more information, check out our ranking methodology.
More Ways to Rank Engineering Schools
Since the program you select can have a significant impact on your future, we've developed a number of rankings, including this Best Engineering Schools for Non-Traditional Students list, to help you choose the best school for you.
To further help you make the college decision, we've developed a unique tool called College Combat that allows you to compare schools based on the factors that matter the most to you. When you have some time, check it out - you may want to bookmark the link so you don't forget it.
2021 Best Engineering School for Non-Traditional Students in Vermont
The following school tops our list of the Best Engineering Colleges for Non-Traditional Students.
Best Engineering School for Non-Traditional Students
University of Vermont tops the 2021 list of our schools in Vermont that are best for non-traditional engineering students. UVM is a large public school located in the small city of Burlington. UVM also took the #1 spot in our Best Colleges for Engineering in Vermont rankings.
About 2.5% of UVM students default on their loans in three years, which is lower than average. Approximately 1,537 students take at least one class online at UVM. 1,454 of UVM students are attending part time. Students may be able to receive credit for their military training, depending on their background.
Read full report on Engineering at University of Vermont
Request Information
Best for Non-Traditional Students Engineering Colleges in the New England Region
Explore all the Best Engineering Colleges for Non-Traditional Students in the New England Area or other specific states within that region.
Engineering Related Non-Traditional Student Rankings by Major
Engineering Majors to Study
View All Engineering Related Majors >
Majors Similar to Engineering
View All Engineering Related Majors >
Notes and References
Footnotes
*Avg Cost is for the top school only.
References
More about our data sources and methodologies.