2022 Religious Studies Degree Guide
Are you interested in the different beliefs that have shaped cultures throughout history? A degree in religious studies will introduce you to world religions while improving critical thinking and writing skills.
Religious Studies majors have the ability to prepare for a variety of professions by taking classes in philosophy, literature, history, world religions, sociology, theology, and more. This liberal arts education gives students knowledge in a wide array of areas while concentrating on world beliefs, ethics, and traditions.
Along with the option to major in general Religious Studies, students are able to specialize in areas such as Buddhism, Christianity, Hinduism, Islam, or Jewish Studies. Additional opportunities to specialize may be available at select universities. Any one of these major will provide you will a strong background in the beliefs and values of different cultures around the world.
A Recent Jump in Religious Studies Degrees
40.4%
Increase in Graduates
Religious Studies was the 115th most popular major in the 2019-2020 school year. Colleges in the United States reported awarding 9,704 degrees in this year alone. This represents a 40.4% increase in religion degrees awarded over the prior year's total of 5,786.
Approximately 711 colleges in the U.S. offer a religious studies degree of some kind. Our 2022 Best Religious Studies Schools ranking analyzes 125 of these schools to determine the best overall colleges for religious studies students. Continue reading to check out one of our many unbiased rankings of religion programs later in this article.
What Are The Requirements For a Degree in Religious Studies
Classes in Religious Studies helps students improve critical thinking skills. Students should be able to analyze different texts, provide logical reasoning to arguments, and give sound explanations to their viewpoints. This major will also help improve your writing skills allowing you to communicate more effectively. Since many graduates pursue a degree working with others, strong interpersonal skills are often required for a career in this field.
Religious Studies graduates pursue jobs in a variety of fields meaning there is no standard work environment. Typically, graduates work full time jobs in an office setting, but this can vary. Advanced education and certification also varies for Religious Studies graduates. It is best to look into the career you intend to pursue to ensure you are fulfilling necessary requirements for that field.
A summer job or internship is not always necessary but will be beneficial. This will allow you to get real world experience and decide what type of job you would like to go into following graduation.
Getting Accepted Into a Religious Studies Program
New students will need to have completed high school or a GED program and each school will have their own minimum GPA and SAT/ACT test requirements. Once you obtain your degree, additional religion certifications required to pursue a career in this field.
Types of Religious Studies Degrees
Religion degree levels vary. You can get anything from a in religious studies to the highest religion degree, a . The time it takes to complete a religion degree varies depending on the program.
| Degree | Credit Requirements | Typical Program Length |
| --- | --- | --- |
| Associate Degree | 60-70 credits | 2 years |
| Bachelor's Degree | 120 credits | 4 years |
| Master's Degree | 50-70 credits | 1-3 years |
| Doctorate | Program required coursework including thesis or dissertation | At least 4 years |
A doctor's degree is the most common level of education achieved by those in careers related to religion, with approximately 67.2% of workers getting one. People currently working in careers related to religion tend obtained the following education levels.
| Level of Education | Percentage of Workers |
| --- | --- |
| Doctoral Degree | 66.2% |
| Master's Degree | 23.8% |
| Post-Doctoral Training | 7.5% |
| Post-Master's Certificate | 2.2% |
| First Professional Degree | 0.7% |
About 75.4% of workers in careers related to religion obtain at least doctor's degrees. The chart below shows what degree level those who work in religious studies have obtained.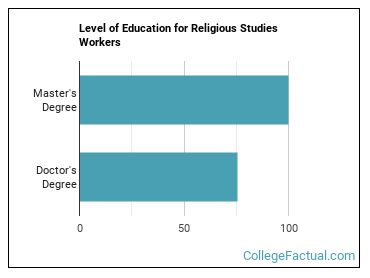 This of course varies depending on which religion career you choose.
Career Opportunities for A Degree In Religion Graduate
Below Average
Number of Jobs
$32.2k
Average Starting Salary
12% Growth
Job Outlook 2016-26
A degree in Religious Studies prepares students for a career in numerous fields. In addition to work as a minister or religious teacher, graduates have gone on to be lawyers, politicians, professors, and writers. Since this degree equips students with strong critical thinking and writing skills, graduates are an asset to companies in a variety of industries.
The job outlook for Religious Studies graduates depends on the career path they choose to follow. Generally, most jobs graduates pursue are growing at an average rate causing some competition for graduates after graduation.
Solid Growth Projected for Religion Careers
Want a job when you graduate with your religion degree? Religious Studies careers are expected to grow 11.8% between 2016 and 2026.
The following options are some of the most in-demand careers related to religious studies.
| Occupation Name | Projected Jobs | Expected Growth |
| --- | --- | --- |
| Philosophy and Religion Professors | 35,700 | 12.3% |
| Area, Ethnic, and Cultural Studies Professors | 12,700 | 10.4% |
Religion Degree Salary Potential
Recently graduated religious studies students earned an average of $32,163 in 2017-2018. Earnings can range from as low as $20,200 to as high as $50,200. As you might expect, salaries for religion graduates vary depending on the level of education that was acquired.
High Paying Careers for Religion Majors
Salaries for religious studies graduates can vary widely by the occupation you choose as well. The following table shows the top highest paying careers religion grads often go into.
| Occupation Name | Median Average Salary |
| --- | --- |
| Area, Ethnic, and Cultural Studies Professors | $85,450 |
| Philosophy and Religion Professors | $82,420 |
Getting Your Religious Studies Degree
With over 1,540 different religion degree programs to choose from, finding the best fit for you can be a challenge. Fortunately you have come to the right place. We have analyzed all of these schools to come up with hundreds of unbiased religion school rankings to help you with this.
Religious Studies Related Majors
One of 3 majors within the Philosophy & Religious Studies area of study, Religious Studies has other similar majors worth exploring.
Religion Concentrations
View All Religion Focus Areas >
Most Popular Majors Related to Religion
View All Religion Related Majors >
References
Featured
Philosophy and Religious Studies

Schools