2021 Top Women's D1 Basketball Schools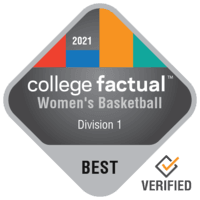 When pursuing a degree in today's world, student athletes have many different options to choose from. College Factual was founded, in part, to help students make the decision as to what would be the best school for them. Our Best Colleges for Division I Women's Basketball ranking is part of that endeavor.
Our analysis looked at 324 schools in the United States to determine which ones were the best for D1 Women's Basketball athletes. Our ranking is based on several objective factors, including the school's overall quality and the athletic competitiveness of the school. We steer clear of subjective measures since they don't give a clear picture when determining how one school compares to another. So, even if a school has a great team, it won't place well if it is also considered a low quality college or university.
See what other factors we include in our ranking methodology.
One Size Does Not Fit All
We know that one set of rankings doesn't always help you determine the best school for you, so we've created the ability to narrow your list by location as well as alternative rankings that prioritize different factors such as those of importance to online students or returning adults or those who value diversity and value for your money.
We've created a tool called College Combat that lets you create your own customized comparisons based on the factors that matter the most to you. We encourage you to try it out and pit your favorite colleges and universities head to head! If you don't have time right now, you can bookmark it for later.
Top Colleges in the U.S. for D1 Women's Basketball athletes
See which schools came out on top of our ranking:
Rest of the Top 15% Best Colleges for D1 Women's Basketball athletes
Not only did these schools make the top 49 list, but they also landed in the top 15% of this year's ranking:
Honorable Mentions
These schools also performed well in our Best Colleges for Division I Women's Basketball ranking:
| Rank | College | Location |
| --- | --- | --- |
| 50 | University of Louisville | Louisville, KY |
| 51 | Temple University | Philadelphia, PA |
| 52 | Mercer University | Macon, GA |
| 53 | University of California - Berkeley | Berkeley, CA |
| 54 | Saint Louis University | Saint Louis, MO |
| 55 | University of Kentucky | Lexington, KY |
| 56 | Auburn University | Auburn, AL |
| 57 | Arizona State University - Tempe | Tempe, AZ |
| 58 | Mississippi State University | Mississippi State, MS |
| 59 | Loyola Marymount University | Los Angeles, CA |
| 60 | Texas Christian University | Fort Worth, TX |
| 61 | Michigan State University | East Lansing, MI |
| 62 | Furman University | Greenville, SC |
| 63 | Colorado State University - Fort Collins | Fort Collins, CO |
| 64 | University of Dayton | Dayton, OH |
Notes and References
Footnotes
*Avg Tuition and Fees and Avg 4-Year Grad Rate are for the top 25 schools only.
References
More about our data sources and methodologies.