2021 Top Women's D3 Lacrosse Schools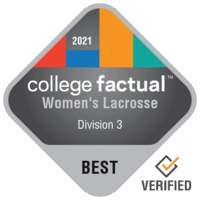 It's not easy to decide which college to attend when there are so many options available for student athletes. At College Factual, we're committed to helping you make that decision by providing information such as that found in our Best Colleges for Division III Women's Lacrosse ranking.
After analyzing 240 schools in the United States, we came up with our list of those that offered the best educational experiences for D3 Women's Lacrosse athletes. Our ranking methodology focuses a number of different objective factors - such as the overall quality of the school, the school's athletic competitiveness, and the amount of athletic aid per student - to make this determination. Having a great sports team is not enough - the school must also focus on academic excellence.
Find out more about our ranking methodology.
One Size Does Not Fit All
We know that one set of rankings doesn't always help you determine the best school for you, so we've created the ability to narrow your list by location as well as alternative rankings that prioritize different factors such as those of importance to online students or returning adults or those who value diversity and value for your money.
We've created a tool called College Combat that lets you create your own customized comparisons based on the factors that matter the most to you. We encourage you to try it out and pit your favorite colleges and universities head to head! If you don't have time right now, you can bookmark it for later.
Top Colleges in the U.S. for D3 Women's Lacrosse athletes
See which schools came out on top of our ranking:
Rest of the Top 15% Best Colleges for D3 Women's Lacrosse athletes
Not only did these schools make the top 36 list, but they also landed in the top 15% of this year's ranking:
Honorable Mentions
These schools also performed well in our Best Colleges for Division III Women's Lacrosse ranking:
| Rank | College | Location |
| --- | --- | --- |
| 37 | Whitman College | Walla Walla, WA |
| 38 | Calvin University | Grand Rapids, MI |
| 39 | Vassar College | Poughkeepsie, NY |
| 40 | Dickinson College | Carlisle, PA |
| 41 | Swarthmore College | Swarthmore, PA |
| 42 | Salisbury University | Salisbury, MD |
| 43 | John Carroll University | University Heights, OH |
| 44 | Saint Vincent College | Latrobe, PA |
| 45 | DePauw University | Greencastle, IN |
| 46 | SUNY Cortland | Cortland, NY |
| 47 | Baldwin Wallace University | Berea, OH |
| 48 | Misericordia University | Dallas, PA |
Notes and References
Footnotes
*Avg Tuition and Fees and Avg 4-Year Grad Rate are for the top 25 schools only.
References
More about our data sources and methodologies.