2021 Best Value Colleges for Sociology
Finding the Best Value Sociology School for You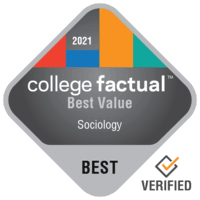 In 2018-2019, 29,920 people earned their bachelor's in sociology, making the major the #19 most popular in the United States.
This year's Best Value Colleges for Sociology ranking analyzed 347 colleges that offered a bachelor's degree in sociology. To us, 'best value' doesn't just mean the school with the lowest overall costs. Instead, we are looking at those sociology schools that offer a high quality educational experience at a price lower than expected.
To determine the average cost, we look at total expenses - such as tuition, fees, room and board, books, and other related expenses - and then subtract the average financial award a student receives. Knowing this amount can help you determine how much you may have to borrow in loans or take out of savings. Keep in mind that the net cost for you may be higher or lower, depending on your income and other factors.
More Ways to Rank Sociology Schools
When choosing the right school for you, it's important to arm yourself with all the facts you can. To that end, we've created a number of major-specific rankings, including this Best Value Sociology Schools list to help you make the college decision.
In addition to our rankings, you can take two colleges and compare them based on the criteria that matters most to you in our unique tool, College Combat. Go ahead and give it a try, or bookmark the link so you can check it out later.
2021 Best Value Sociology Schools in the United States
The following schools top our list of the Best Sociology Colleges for the Money.
Top 25 Best Value Sociology Schools
Rest of the Top Schools for Best Value Colleges for Sociology
Additional Award Winners
This section represents the remainder of the schools awarded a Best Value Colleges for Sociology badge. Showing in this list means the college was ranked in the top 15% of the 347 different United States sociology schools we analyzed.
Honorable Mentions
These are some additional schools worth mentioning that are also great but just didn't quite make the cut to earn our top Best Value Colleges for Sociology award.
| Rank | College | Location |
| --- | --- | --- |
| 53 | University of Missouri - Columbia | Columbia, MO |
| 54 | The College at Brockport | Brockport, NY |
| 55 | California State University - Long Beach | Long Beach, CA |
| 56 | University of Nebraska at Omaha | Omaha, NE |
| 57 | The University of Texas at San Antonio | San Antonio, TX |
| 58 | Doane University | Crete, NE |
| 59 | Brigham Young University - Idaho | Rexburg, ID |
| 60 | Le Moyne College | Syracuse, NY |
| 61 | Western Illinois University | Macomb, IL |
| 62 | St. Bonaventure University | Saint Bonaventure, NY |
| 63 | University of Illinois at Chicago | Chicago, IL |
| 64 | University of Wisconsin - Eau Claire | Eau Claire, WI |
| 65 | Worcester State University | Worcester, MA |
| 66 | Arizona State University - West | Glendale, AZ |
| 67 | University of North Carolina at Charlotte | Charlotte, NC |
| 68 | California State University - Fullerton | Fullerton, CA |
| 69 | Bowling Green State University - Main Campus | Bowling Green, OH |
Sociology by Region
View the Best Value Colleges for Sociology for a specific region near you.
Sociology Related Rankings by Major
Sociology is one of 13 different types of Social Sciences programs to choose from.
Majors Similar to Sociology
View All Sociology Related Majors >
Notes and References
*These averages are for the top 25 schools only.
The Integrated Postsecondary Education Data System (IPEDS) from the National Center for Education Statistics (NCES), a branch of the U.S. Department of Education (DOE) serves as the core of the rest of our data about colleges.
Some other college data, including much of the graduate earnings data, comes from the U.S. Department of Education's (College Scorecard).
Credit for the banner image above goes to Kontos.
More about our data sources and methodologies.