2021 Best Sociology Colleges for Veterans
Finding the Best Sociology Schools for Vets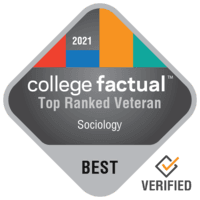 Sociology is the #19 most popular major in the country with 29,491 bachelor's degrees awarded in 2019-2020.
This year's Best Sociology Colleges for Veterans ranking looked at 351 colleges that offer a bachelor's in sociology. Not only do the schools that top this list have excellent sociology programs, but they also offer a lot of support to veterans and active service members.
To come up with these rankings, we looked at factors such as veteran satisfaction, veteran affordability, and overall quality of the sociology program at the school. Check out our ranking methodology for more information.
More Ways to Rank Sociology Schools
Since the program you select can have a significant impact on your future, we've developed a number of rankings, including this Best Sociology Schools for Veterans list, to help you choose the best school for you.
To further help you make the college decision, we've developed a unique tool called College Combat that allows you to compare schools based on the factors that matter the most to you. Go ahead and give it a try, or bookmark the link so you can check it out later.
2021 Best Sociology Schools for Veterans in the United States
The colleges and universities below are the best for vets studying sociology.
Top 25 Most Veteran Friendly Sociology Schools
Rest of the Top Schools for Best Sociology Colleges for Veterans
Additional Award Winners
This section represents the rest of the schools awarded a Best Sociology Colleges for Veterans badge. Showing in this list means the school was ranked in the top 15% of the 351 different United States sociology schools we analyzed.
Honorable Mentions
Here are some additional great schools for vets studying Sociology that almost earned our Best Sociology Colleges for Veterans award.
| Rank | College | Location |
| --- | --- | --- |
| 53 | Indiana University - Bloomington | Bloomington, IN |
| 54 | Louisiana State University and Agricultural & Mechanical College | Baton Rouge, LA |
| 55 | Virginia Tech | Blacksburg, VA |
| 56 | Rutgers University - New Brunswick | New Brunswick, NJ |
| 57 | University of Nebraska - Lincoln | Lincoln, NE |
| 58 | California State University - Los Angeles | Los Angeles, CA |
| 59 | University of Houston | Houston, TX |
| 60 | Michigan State University | East Lansing, MI |
| 61 | The University of Tennessee - Knoxville | Knoxville, TN |
| 62 | California State University - Dominguez Hills | Carson, CA |
| 63 | University of North Carolina at Charlotte | Charlotte, NC |
| 64 | University of Nebraska at Omaha | Omaha, NE |
| 65 | University of California - Irvine | Irvine, CA |
| 66 | University of Central Florida | Orlando, FL |
| 67 | Binghamton University | Vestal, NY |
| 68 | Hunter College | New York, NY |
| 69 | Old Dominion University | Norfolk, VA |
| 70 | Duke University | Durham, NC |
Sociology by Region
View the best for vets Sociology colleges in a specific region near you.
Sociology Related Veterans Rankings by Major
Sociology is one of 12 different types of Social Sciences programs to choose from.
Majors Similar to Sociology
View All Sociology Related Majors >
Notes and References
Footnotes
*Avg Cost is for the top 25 schools only.
**GI Bill® student total includes all chapters of the GI Bill® program (e.g., Post-9/11, Montgomery GI Bill, Reserve Education Assistance Program, and Veteran Readiness and Employment)
References
More about our data sources and methodologies.