2021 Best History Colleges for Veterans in the United States
Finding the Best History Schools for Vets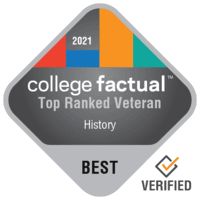 History is the #19 most popular major in the country with 25,943 bachelor's degrees awarded in 2018-2019.
This year's Best History Colleges for Veterans in the United States ranking analyzed 304 colleges that offered a bachelor's degree in history. The schools that top this list are recognized because they have great history programs and a strong support system for veterans and active service members.
Some of the factors we look at when determining these rankings are overall quality of the history program at the school, veteran affordability, and veteran population. See our ranking methodology to learn more.
More Ways to Rank History Schools
The history school you choose to invest your time and money in matters. To help you make the decision that is right for you, we've developed a number of major-specific rankings, including this list of the Best History Schools for Veterans.
To further help you make the college decision, we've developed a unique tool called College Combat that allows you to compare schools based on the factors that matter the most to you. Test it out when you get a chance! You may also want to bookmark the link and share it with others who are trying to make the college decision.
2021 Best History Schools for Veterans in the United States
Check out the history programs at these schools if you want to see which ones are the best for vets.
Top 25 Most Veteran Friendly History Schools
Honorable Mentions
These are some additional schools worth mentioning that are also great but just didn't quite make the cut to earn our top Best History Colleges for Veterans in the United States award.
| Rank | College | Location |
| --- | --- | --- |
| 46 | University of Florida | Gainesville, FL |
| 47 | University of Wisconsin - Whitewater | Whitewater, WI |
| 48 | University of Iowa | Iowa City, IA |
| 49 | Arizona State University - Tempe | Tempe, AZ |
| 50 | University of Massachusetts Amherst | Amherst, MA |
| 51 | Wabash College | Crawfordsville, IN |
| 52 | Providence College | Providence, RI |
| 53 | CUNY Queens College | Queens, NY |
| 54 | Binghamton University | Vestal, NY |
| 55 | Loyola University Chicago | Chicago, IL |
| 56 | The University of Alabama | Tuscaloosa, AL |
| 57 | University of North Carolina at Greensboro | Greensboro, NC |
| 58 | University of California - Santa Barbara | Santa Barbara, CA |
| 59 | Auburn University | Auburn, AL |
| 60 | University of Minnesota - Twin Cities | Minneapolis, MN |
History by Region
View the best for vets History colleges in a specific region near you.
History Related Veterans Rankings by Major
History Majors to Study
| Major | Annual Graduates |
| --- | --- |
| History | 25,943 |
View All History Related Majors >
Most Popular Majors Related to History
View All History Related Majors >
Notes and References
Footnotes
*Avg Cost is for the top 25 schools only.
**GI Bill® student total includes all chapters of the GI Bill® program (e.g., Post-9/11, Montgomery GI Bill, Reserve Education Assistance Program, and Veteran Readiness and Employment)
References
More about our data sources and methodologies.